Eudora woman's hobby adds flavor to life
Salt and pepper shaker collector Teri Leahy can boast about a collection of about 300 sets of shakers, but her favorite set resembles a pair of Jayhawks.
Leahy, the office manager for Kansas University's Physics and Astronomy Department, became interested in the salt and pepper shakers after seeing the collection of her grandmother, Cecil Jenks. When Jenks decided to give up her collection, Leahy received most of the shakers.
"I like birds and animal shakers and the old shakers," Leahy said. "They pretty much have to be goofy, not traditional."
Leahy, who only uses one set of salt and pepper in her house, became even more interested in collecting the shakers after she looked at a close friend's collection. Since then, Leahy has visited flea markets, garage sales and yard sales to find different types of salt and pepper shakers.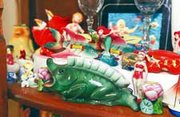 Leahy's interest in crafty items does not end with salt and pepper shakers. She is an avid collector of creamer pitchers, ceramics, furniture and other arts and crafts items.
After living in Lawrence and Wellsville, Leahy said she enjoys the environment of Eudora where she lives with her two sons Drew Wiard, 17, and Sean Wiard, 13 and her husband Tim Leahy.
"I like living in small towns because you know most of your neighbors when you walk down the street," Leahy said. 'I wanted to move to Eudora for the schools."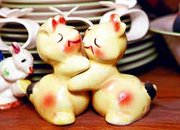 Recently, Leahy became the agent of Nashville based country and western recording artist Royal Wade Kimes. Leahy is responsible for booking concerts for Kimes. Among his many accomplishments, Kimes wrote "We Bury the Hatchet" for country star Garth Brooks and was nominated as an Academy of Western Artist Male Vocalist award for his "Hangin' Around the Moon" album. He also received airplay for his single "Another Man's Sky," and Leahy said Kimes has had success with his Christian country album, "Courage of Daniel."
Leahy said she hoped to bring Kimes to the Lawrence area sometime soon.
"I hope that in the near future that I will be able to bring him to the area so everyone can see what kind of awesome musician he is," Leahy said.