No bull: Competitors saddle up for Douglas County Horse Show
Showing horses and winning prizes has been a commonplace activity for Eudora residents Julie Carden and Kevin Webb over the years.
On Saturday morning, it was business as usual for the two as they each placed in several categories at the Douglas County Horse Show on the fairgrounds in Lawrence.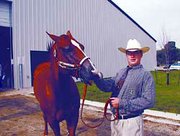 Carden, 18, won a blue, first place medal in the western showmanship and pony pleasure categories with her horses, Mr. Deckon and Little Princess. Carden has owned Mr. Deckon for 11 years and travels across the state to show him in competitions and fairs.
"I like the sportsmanship of showing horses and having friends who also enjoy it," Carden said.
A 2001 graduate of Lawrence High School, Carden will attend Fort Scott Community College where she will study a pre-veterinarian curriculum and compete for the rodeo and meat judging teams. She plans on transferring to Kansas State University to complete her degree. A ten-year rodeo competitor, Carden especially enjoys the barrel racing and pole bending events. She will go to the Kansas State Fair in Hutchinson later this summer to compete in barrel racing and team roping events.
"It is the speed and the fact that the clock is your only judge that I like," Carden said. "When you rodeo in college, it is more like a team."
Webb, 15, on the other hand, focuses solely on showing horses throughout the year as part of the Kansas State Horse Show Circuit, 4-H club and American Quarter Horse Association. The Eudora High School sophomore has been showing horse since he was four years old. Webb's aunt, Susan Patton of Mc Louth, has been showing horses for many years and created interest for her nephew and her daughter to also participate in the shows.
Webb had a successful day on Saturday as he gained a first place, blue medal with his horse, Publication, in the Halter Division. He also placed second in the western pleasure category and third in showmanship. Webb was pleased with the performance of his prized horse, which his family purchased last September from Eleta Jones of Kansas City, Kan.
"Publication does really well at showing, pivoting and western skills," Webb said.
With a one-year-old horse named Misty Dawndundee, Webb won a first place prize in the two-and-under Halter class division.
More like this story