War veteran seeks peace
After 56 years, retired Marine still wrestles with memories of Iwo Jima
Ernest Tubbs sang the old country song, "Let's say goodbye like we said hello. In a friendly sort of way." But Eudora's Jess Wyant, 76, is living the lyrics. After almost 30 years, Wyant, a reluctant war hero, is trying to reconcile with a wife that left him over his drinking and depression. If alcoholism ever could be explainable, it would be in Wyant's case. He has persevered through five bouts of cancer, a stroke and three of the most intense battles of World War II. He now wants to see his ex-wife one last time before he dies to tell her he always loved her.
Wyant's story starts in Kansas City, Mo. The son of a produce manager, he still remembers the day the Japanese bombed Pearl Harbor. But his most vivid war memories are of Iwo Jima, arguably the bloodiest battle in U.S. military history. The photo of the famous flag raising on Iwo Jima was immortalized through a statue in Washington D.C. More Iwo Jima Marines were awarded the Medal of Honor than any battle in U.S. history. One account likened the battle to throwing human flesh against reinforced concrete. Wyant was in the 3rd division when he landed on Iwo. He doesn't like to talk about Iwo, which is understandable considering what he saw.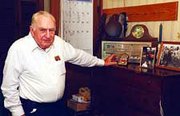 "The boys of the 5th company were like cannon fodder," Wyant said. "You couldn't defend yourself. All we were doing was ducking. You could hear the mortars, and you'd see boys just cut in half."
Wyant's Iwo Jima experience began the second or third day after the battle started, February 19, 1945. "When I landed, guys were stacked up like firewood." The Japanese had dug an intricate maze of tunnels below Iwo Jima, and were waiting for the US invasion. Ultimately, 6,821 Americans were killed. One of the injured Americans was Wyant's brother. "He had no business being there. He wasn't trained properly for what we went through," Wyant said. "We had no business hitting that island. I don't know why we didn't just starve them out."
Of the 22,000 Japanese soldiers dug in on Iwo Jima, 21,000 died. Some survived by hiding in tunnels for years after the war.
Wyant was on the island until virtually the very end of the battle. His last recollection is the sound of a mortar coming his way and he ducked next to a tank. He woke up on a ship headed for Hawaii. He said softly that was all he wanted to say about that.
Historians have suggested that none of the soldiers were prepared for what they went through at Iwo. Many of the survivors, including Ira Hayes, one of the famous flag raisers, never recovered from the battle. Hayes died at 32, an alcoholic with multiple arrests for intoxication.
The flag raising photo has gained recent notoriety because of the best-selling book, "Flags of our Fathers," written by James Bradley, son of one of the flag raisers. Wyant said the book was mostly accurate, though he points out one account of a sergeant throwing himself on a grenade. "A man wouldn't do that if he'd seen a grenade go off.
"If he did, he probably already had cracked up," Wyant said.
George Gentile, president of the Iwo Jima Survivors Association, said the book was written as though Bradley had been there. "He put a feeling into it that most of us couldn't express," Gentile said. "After the war, most of us never talked about it." Wyant echoed Gentile's sentiment about the battle. "I tried for years to black it out of my memory," he said.
Wyant also fought on Guam and Bouganville, another bloody battle in the South Pacific.
He was shot in the leg in Guam. Wyant came home after being called up from the reserves to fight in Korea. He was discharged because of his dependent children.
But he fought the demons for years. "I'd drink a couple glasses of whisky before I went to bed. If I woke up in the middle of the night from a nightmare, I'd have a couple more," he said. After 26 years, his wife had enough of his depression and his drinking. "She walked out the door and said, 'I love you but I'm leaving. I can't fight that battle for you and I'm tired of fighting you.'"
In 1989, Wyant quit drinking. He's not close with many of his four living children, although his son, Gordon, is in town this week to see him. Ironically, his son married a Japanese woman and now lives in Tokyo. While he hasn't forgiven the Japanese for what he went through, Jesse Wyant wished his son well.
Now, he hopes to make peace with his ex-wife. "All I want to do is say goodbye. I miss her. I really do," Wyant said. Despite past requests from the media, Wyant said he usually didn't give interviews. He said he hoped if his ex-wife saw a story about his desire for making up, she might have a change of heart. "If there's ever going to be peace we better do it soon." He said he'd written letters and tried to call, but she wouldn't return his messages.
Told he was a true hero regardless of what he went through, Wyant asked, "What's a hero? I guess if you were there, you were either dead or a hero. I'm denying I'm a hero. I think heroes you hear about in books often made bad judgment. I've paid for (his experience) since, that's for sure."
More than 55 years after the war, he still occasionally has nightmares about his experiences.