Blue Flames go out in style
It may have been the Blue Bombers, Blue Demons, Stingers and finally, the Eudora Blue Flames softball team over its four seasons but the team always found a way to place near the top of its division.
The 12 and under Eudora Blue Flames finished in first place with a 14-0 record at the Johnson County Girls Athletic Association. Blue Flames pitcher Caitlyn Riser won the Most Inspirational Award, which was given to one player out of 80 teams.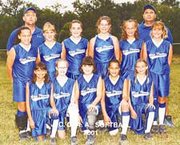 "Coach Goldring wrote an entry and I won the award out of 800 girls," Riser said. "He said I kept the girls up when they were down."
Riser said all of the Blue Flames will be going to other teams and is not sure about which team she will join next season.
"We had a good team so I feel bad about the breakup," Riser said. "I'm planning on playing for a team in Johnson County that plays fall ball and tournaments."
The team went on to Salina, where it placed third in the Silver Division with a 2-3 record. Despite the team's success over the last four years, it will break up next season, as head coach, Steve Goldring, is relocating to Wichita.
"This team has been together so long that the break up is a big emotional thing for everyone involved," Goldring said.
The Blue Flames competed with players of ages ranging from 9 to 13 this season. Goldring said he thought all of the players improved and will enjoy success in future seasons.
"They all improved this season and each one had 100 percent commitment which makes it easy to coach," Goldring said. "Look for these girls to win some state high school championships from 2004 to 2007."
As the Kansas Stingers last season, the team won the Topeka Invitational tournament in the 12 and under division and took 10th place at the state tournament. When known as the Blue Demons in 1998-99, the team placed second in the state 10 and under tournament and qualified for the regional tournament, finishing 20th out of 42 teams. In its first season as the recreation league Blue Bombers, the team finished in first place of the Tri-County league with an 11-1 record.
Third baseman Chelsea Carnagie said she enjoyed the four year dynasty.
"It is a little sad because all of my friends are on the team," Carnagie said. "I liked the tournaments the most."
First baseman Nikki Miller said that the team always enjoyed itself regardless of the outcome.
"We had a lot of fun together even if we lost," Miller said. "I'm gonna miss all the girls and Coach Goldring, because he wanted us to play at our best limits all the time."
With the constant traveling that goes along with playing and coaching competitive softball, Goldring is planning on watching softball as an observer of his daughter Jesi's new team in Wichita and spending time with his wife, Lisa. Prior to coaching his daughter's team, Goldring played softball competitively for several years.
"I'm ready for some off the field time," Goldring said. "I will get to be a spectator again."