St. Mary Bryant's new home court
Eudora
MVP

continues play in Leavenworth
Former Eudora High School basketball player Jessica Bryant will continue her hoop dreams a few miles north on K-7.
The 2000-01 girls' basketball co-Most Valuable Player decided to play basketball for St. Mary College (SMC) in Leavenworth, where she will study psychology. She will attend SMC on partial scholarships for both academics and athletics. Bryant chose SMC after considering attending and playing intramural basketball at Fort Hays State or Washburn.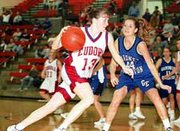 "I really liked going up to SMC and it is a good atmosphere," Bryant said. "It isn't too big and I like the student-to teacher-ratio. I got along well with pretty much everyone I met on the team and went to their open gyms all summer."
After debuting on the Cardinals' varsity team as a junior, Bryant endured a coaching change that focused on a different style of basketball the following season when Coach Gretchen Freeland took over for Don Grosdidier. Bryant, who also ran relays for the EHS track team during her junior year, said both coaches brought important things to the EHS program.
"Coach Freeland bonded with the team and I liked her coaching techniques. She really wanted us to work on defense," Bryant said. "Coach Grosdidier focused on scoring, offense and being quick."
She enjoyed playing for the Cardinals during the 2000-01 season and cited the senior night victory over Gardner-Edgerton as a bittersweet highlight of her career at EHS.
"I didn't want it to be my last game but they beat us before and we wanted this one more," Bryant said. "We worked well together and it wasn't a one person team."
With some young talent on this year's roster, Bryant thinks the Cardinals will have a bright future.
"Lauren Kracl is really good and she's only gonna get better," Bryant said. "And Rachel Abel has a lot of potential to be a good point guard because of her quickness and ball handling skills."
Kracl said she learned a few things about team leadership from Bryant during her freshman year at EHS.
"Jessica inspired me and the team and she was very accepting," Kracl said. "She got us on track and kept our heads up when we were down."
Sophomore Rachel Abel credits Bryant for both her inspiration as a team leader and helpng her with her shooting technique.
"Her leadership was probably the biggest thing," Abel said. "She pushed everyone to do better last year."
Like many freshmen who are starting college, Bryant knows her move to SMC will be a big change in her life. However, she said it will be nice to have her brother Jeremie and sister, both EHS students, and her mother, Debbie, attend the Spires' home games. Bryant's classmate, Steve Krutz, will be playing football at SMC.
SMC Coach Bob Kickner is looking forward to seeing Bryant join the Spires' roster this season.
"She really improved from her junior to senior year at Eudora and I expect that to continue," Kickner said. "She is a very composed athlete, a very good student and she can help her team win games. I am very pleased with the opportunity to work with her for what I hope will be the next four years."