Warren walked on to Wildcat fame as tight end
Six short years ago, Eudora's Nick Warren was a junior quarterback for Eudora High School and Marty Kobza began the debut season of a three-season stint as the head football coach at EHS.
Today, Warren is a senior and the starting tight end for the Kansas State Wildcats. His former coach is no longer Eudora's general on the football field. He's the superintendent of the Eudora School District.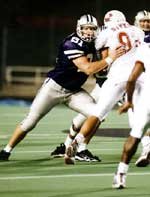 The 6-7 255-pound Warren, who walked on to the KSU football team in 1997, is thankful to Kobza and the EHS coaching staff for switching him from quarterback to tight end for a senior year in which he caught 28 passes and scored six touchdowns.
"The move was good for me and the team," Warren said. "We had better success when I moved to tight end."
After earning all-Frontier League honors in both basketball and football, Warren was offered scholarships from the University of Cincinnati and several junior colleges in Kansas. He also had the option of trying to join several Big 12 football programs such as Kansas University, Kansas State and Oklahoma State as a walk-on player. Knowing the strength of the Kansas State football program, Warren decided to walk on as a Wildcat. In the winter of 1998, Warren was awarded a scholarship from the football team.
"I decided that I'd rather take my chances and walk on at K-State," Warren said. " It was a challenging task and a big step up from high school. I'm glad that I came here. I met a lot of great people and I wouldn't trade it for the world."
Kobza is not surprised with the success story of Warren becoming a starter on a top notch Division I football team.
"I remember that Nick was one of our best athletes," Kobza said. "He is a hard worker who worked hard in the weight room in high school and continued through college. It gives (Eudora) an even greater sense of pride that he is an outstanding young man."
Warren redshirted during the 1997 season and then contributed as a special teams player on the 1998 team that defeated Nebraska for the first time in three decades, reached the Big 12 Championship Game in St. Louis and qualified for the Alamo Bowl in San Antonio.
A finance major at K-State, Warren has not counted out the possibility of playing football at the professional level but he wants to concentrate on the upcoming season first. Warren stepped up last season and started when starting tight end Shad Meier of Pittsburg was injured. Meier was drafted by the Tennessee Titans in April and Warren's former teammate tight end Justin Swift of Kansas City, Kan., plays for the San Francisco 49ers.
"Playing underneath those guys (Meier and Swift) has taught me a lot," Warren said.
Warren has also learned a lot from the man who resurrected a program that had been in the doldrums for decades, Kansas State Head Coach Bill Snyder.
"The first thing that I learned when I got there was the amount of responsibility it takes," Warren said. "He (Snyder) is very demanding, and he wants you to focus on what you are doing and to be responsible for your actions. It has taught me lessons off the field that have been very important in my life."
Snyder holds a mutual respect for the senior tight end, both on and off the field.
"Nick has been a pleasant young man to have in our program who earned the right to go on scholarship," Snyder said. "He has been very helpful to the program on the field and a very fine student here."
Warren's success and the Wildcats' ascension to the top 10 polls of college football have made Eudorans pay attention to their hometown product. Even Kobza, a Nebraska native and lifelong Cornhusker fan, will cheer for Warren and the Wildcats when they aren't facing the Big Red. However, the Wildcats are 2-0 against Nebraska when Kobza is present in KSU Stadium.
"It sets a great example for kids in Eudora that they can do some great things," Kobza said.
Despite being almost two hours away most of the time, Warren has not forgotten his hometown roots either. He returned to Laws Field last season to watch the Cardinals in their 4A playoff game against Hiawatha.
"When (Coach Kobza) got here we weren't very successful but he turned around the program and showed us we could win," Warren said. "Coach Barnett took that to the next level. I really respect how good their team has become and I think it has helped out the community as well."
Warren's playing time increased as the Wildcats reached bowl games against Washington and Tennessee during his sophomore and junior years respectively.
"The bowl games are a good reward for a good season," Warren said. "Playing on four teams that have each won 11 games has been amazing. I am really looking forward to this season."
Another highlight for Warren was playing two games at Kansas City's storied Arrowhead Stadium during the 2000 season. The Wildcats defeated Iowa in the season opener at Arrowhead and lost to Oklahoma in the Big 12 championship Game there. Warren hopes the Wildcats can return to the Big 12 title game this season, which will be held Dec. 1 in Irving, Texas.
"Playing both games at Arrowhead were a lot of fun," Warren said. "I'm just gonna go out there and enjoy my last year (as a college player)."
Snyder, who said Warren had a breakout game against Texas A&M last year, envisions good things for the Eudora native this season.
"We would anticipate that he would be our starting tight end," Snyder said. "He is very capable as a receiver and likewise as a blocker. His play will be very, very valuable to us this year."