Woven by heart
Basket weaving more than
A wide variety of handbaskets overcrowd a part of Robbie Wisdom's back porch on a hot summer day.
Most days, Wisdom can be found outside her home making handbaskets regardless of the weather. Wisdom embraced basket weaving in 1993 when her friend and former Eudora resident, Pat Snow, introduced her to the activity.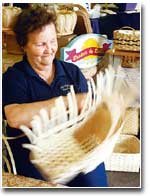 "I always liked baskets but I didn't think that I could make them," Wisdom said. "It is very interesting when you go to different conventions. You learn things from each one of them."
The baskets, which range from stairstep, feathered crown and tote baskets among others, make up Handwoven Baskets by Robbie. These days, it is difficult to find a place in the area where Wisdom has not left a mark on the basket weaving scene. In fact, she takes pride in tailoring the handbaskets to the specific needs of the consumer.
In the eight years since beginning the hobby, Wisdom has attended national conventions in Indiana, Missouri and Washington, D.C., taught community education classes in Tonganoxie, made demonstrations at the Mahaffie Farm House in Olathe and marketed her handbaskets to local vendors, including Wells Woodworking in Old Lenexa Town.
"Selling baskets in a shop is something new I'm trying," Wisdom said. "It is fun to teach people how to make baskets because it was something I never thought I could do."
Wisdom sells her baskets at shows and is scheduled to be on hand at the downtown De Soto Watermelon Festival, where she will make baskets in front of the festival audience.
"I really enjoy making baskets as well as styling and creating," Wisdom said. "I also like going to shows and meeting people."
Wisdom is a dedicated exhibitor in De Soto as she has been at town festivals since the 1993 edition of De Soto Days. Among her 23 shows around the area, Wisdom also exhibits her baskets at Zimmerman's Harvest Festival. She said she had many loyal clients in De Soto and says that it is an enjoyable place to work.
"When you learn to create baskets you are not only learning about baskets but also about people," Wisdom said. "I like seeing the same people at shows and I might see the same people at two or three shows in the same year. Everyone in De Soto is so helpful, whether they are helping you set up or tear down."
Wisdom has lived in Eudora since 1944 when her family moved to town from Moro, Ark. She worked at a student loan service center in Lawrence and the Sunflower Ammunition Plant near De Soto.