New Family and Friends
Hesper Friends welcomes new pastor
Coming from the bustling city of Houston, life outside Eudora is a relaxing welcome for Hesper Friends Church minister Charles Neifert.
"It's calming surroundings," he said. "I'm not going to get on Highway 10 with those people going to work."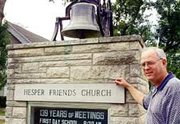 The pastor, who joined the congregation earlier this month, works out of a basement office of his home, only footsteps away from the church, whose community is steeped in history.
Remnants of the Oregon Trail, a pioneer path to the West, lie behind the church's cemetery. Less than a mile away, early members of the Friends church built an academy and a small village, a few of whose buildings survive.
"This little church probably sprang up because it's on the Oregon Trail," Neifert said. "It's probably Friends who ran out of money on their way there. Whenever they stopped, they always started a church on their way there."
Neifert's denomination used to be known as Quaker, possibly causing confusion about the church, which Neifert said isn't much different from any other Christian denomination.
"They used to wear plain clothes and speak with 'thees' and 'thous,' but that's past history," he said.
He said his goals for the church are to present Christianity without forcing it.
"We want people to hear the claims of Jesus and decide one way or the other," he said.
In many other churches, increasing membership is a primary goal. Whereas other pastors would see a congregation of 35 to 40 worshippers as a challenge, Neifert sees the virtues of a small church.
"It's a little different kind of feel," he said. "Small congregations are nice because everyone knows each other. With the growth that's projected, I wouldn't be surprised if they'd grow."
Having ministered in communities ranging from rural Iowa to urban Houston, Neifert said he thinks he has a good idea how to reach both traditional small-town and rural people as well as those who have relocated from Kansas City.
His new location suits him because it allows him to be about halfway between his children living in Iowa and southern Kansas. One of Neifert's sons is a pastor in Argonia, like his father and grandfather before him.
Neifert said he's happy to have a calm place to live with a place to go shopping.
"I've always kind of liked being out in the country with access to the city," he said.