EHS

opens Stutler era with victory
The Eudora High School volleyball team welcomed three Bs- Baldwin, Basehor-Linwood and Bonner Springs, to its season opening quadrangular meet at Eudora, but left the EHS gymnasium with only one W in Coach Jill Stutler's debut Tuesday night.
Stutler said the team will work on fundamentals, serving consistency, passing and front line strength before the Cardinals' next competition, a triangular meet between EHS, Pomona and Stutler's former squad, Perry-Lecompton on September 6. Two days later, the Cardinals will participate in the daylong McLouth Invitational, where they will face Jefferson West, McLouth and Valley Falls among other squads.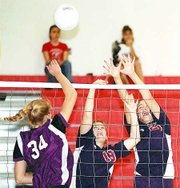 "When we play Perry-Lecompton, we will have to dominate in passing effectiveness," Stutler said. "Perry-Lecompton is scrappier than any team we have seen."
The Cardinals (1-2), won their first match by defeating Bonner Springs (0-3), 15-10 and 15-7. Stutler said she was pleased that the team came out with a victory but the overall performance proved to be rusty.
"It was the first match and I knew we were going to make some mistakes,"Stutler said."We got a win under our belts but we need to do a better job running our offense."
In the following game, Eudora faced Frontier League rival Baldwin (3-0) in a non-league contest. The Cardinals started out strong in the first match, opening a 8-1 lead behind the efforts of senior servers Brandi Abel, Brandi Hime and Jill Woodward and the front line play of Woodward and junior Jenny Durkin. Sophomore Mallory Ross, who was originally set to compete on the junior varsity squad, also contributed to the early Cardinal surge with her serves. The Bulldogs cut the Eudora lead to five, but the Cardinals bounced back to claim the first match 15-6. The Cardinals showed energy and team spirit after each possession but could not come back from an early 8-2 deficit in the second game, which the Bulldogs won 15-4. Eudora began the deciding game in similar fashion to their opening match domination. They started with a 4-0 lead before Baldwin outscored them 10-1, eventually claiming a 15-9 victory in the final match.
Stutler said that dominating each match at the beginning is a team goal this season. She also said that she has been pleased with Woodward's consistency, communication and senior leadership in practice and Ross' ability to add more depth to the varsity roster.
"In the second match of the Baldwin game, we let up in our overall play," Stutler said. "Our goal is to be the first team to score and the first team to get to five points."
With the Bulldogs and Anderson County returning to EHS for the season opening Frontier League game on September 18, Stutler said her team will be looking forward to a rematch.
"I was pleased with our performance against Baldwin," Stutler said. "We will be out to redeem ourselves (on September 18)."
The Cardinals played their final match of the evening against Basehor-Linwood (2-1). The Lady Bobcats jumped out to an early lead in the first game en route to a 15-10 win. In the second game, EHS senior Brandi Hime took over the serving duties when the Cardinals faced elimination at 14-9. The Cardinals, who benefited from the clutch frontline play of senior Lacy Deathe and the overall athleticism of sophomore Lauren Kracl, scored six consecutive points to take the lead before Basehor-Linwood squeaked by with a 17-15 decision.
"The Basehor-Linwood game showed some of our character," Stutler said. "We kept pushing and had some good servings. Brandi Hime settled down on her serving and brought us back in the ball game."
Stutler said that the Cardinals will become a better team as soon as they can learn to successfully implement the offensive strategy that she has planned for them.
"We are trying to run a system that keys on strong hitters," Stutler said. "If our passing opens up, it will open up a whole new dimension for this team."