Senior-heavy Paola hopes for return to the top
The Paola High School football team suffered its first loss to Eudora in school history last season, but Coach Mike Dumpert said getting revenge for the 14-13 overtime loss is the last thing on his team's mind.
"Last year was the first time we faced Eudora in a while and this year we feel like we have more of a hold on what they are going to do," Dumpert said. "We don't look back and we don't live on revenge. We are excited to play a quality opponent in week one."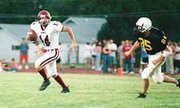 The Panthers, 7-2 last season, return 19 seniors from a team whose only other loss was a 6-0 setback in a district game at Spring Hill.
After gaining the top defensive spot in the Frontier League last season, PHS will flaunt a new flex-bone offense, showcasing the talents of its seniors, including run-oriented quarterback David Ward, running back Dustin Walters and fullbacks Alex Kelsey and Nate Payne.
"Our bread and butter is going to be the option," Dumpert said. "Last year, we ran a very simplified version of it but this year we hope to be more varied with the option. I'm very pleased with the intangibles that these seniors bring to the field."
Other offensive contributors will be senior center Joe Cullor, who made first team all-Frontier league last season, senior tight end Mike Damron and senior kicker/ wide receiver Nick Green.
Both Ward and Walters will perform as defensive backs on the other side of the ball while senior J.C. Wolverton will lead a young, inexperienced defensive line.
Dumpert said that the Panthers have several goals that they hope will lead to a victory on Friday night.
"We need to play intense football for 80 plays," Dumpert said. "Turnovers play a huge part of the game. We have to hold on to the ball and eliminate mental mistakes."
EHS Coach Aaron Barnett said that Paola is one of the most challenging and consistent teams in the Frontier League each season.
"Paola has a long standing tradition and to be the best, you have to beat the best," Barnett said.
Dumpert, like Barnett, is in his fourth year as the Head Coach of a Frontier League program. He holds a high degree of respect for the strides that Barnett has made at EHS.
"Eudora's program has made the most improvement," Dumpert said. "I am very impressed with what Coach Barnett has accomplished in Eudora and hopefully we can meet the challenge."