Late Nite kicks off season
Pep rally crowd cheers
Kansas University students who cherish their school's famous "Late Night with Roy" event might want to take a ride to Eudora next year to see another area basketball kick-off event.
Cardinal fans, cheerleaders, drill team dancers and band members flocked to the Eudora High School gymnasium for "Late Nite with the Cards" Friday night for aglimpse of the girls and boys basketball teams' intrasquad scrimmages. Students involved in the event also got the chance to joke with humorous skits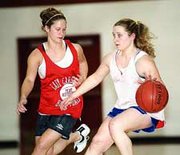 "The kids have been working on it for about six weeks," Athletic Director Larry McPherson said. "There is a bigger crowd than I anticipated."
Several Eudora students dressed in tanktops and blue jeans while senior Zac Tyler rode around on a bicycle to "Leader of the Pack." The girls basketball team performed a dance to "Independent Women" by Destiny's Child.
Drill team coach Robyn Kelso organized the event sophomore drill team member Amber Stoltenow suggested since her Lawrence junior high school had the event. The drill team showcased its talents and collaborated with the cheerleaders on several routines.
"I thought it went very, very well, and I was pleased with the crowd turnout and community participation," Kelso said. "I think everybody can look forward to it next year."
Cardinals fans got a chance to join the action during a "shootout" when John Hamilton won the adult division and EHS boys basketball manager Dorian Green won the kids' division.
Freshman band member Sarah Stieben said the event brought out a lot of school spirit and pride for EHS.
"I am enjoying it because I have a lot of school spirit," Stieben said.
Sophomore basketball fan Jeremy Bass attended the event to see how the new Cardinal basketball squads would look after a summer that included a coaching change on the boys team and sophomore Lauren Kracl playing on an AAU National Championship team.
"I think it's kind of cool and it gets the community involved," Bass said.
Coach Scott Stein, who has never participated in a "Late Nite" basketball event in his 26 years of coaching, said it was a good way for the Cardinals to get warmed up for the season.
"We got to play in front of a large crowd before we start the season," Stein said. "The drill team spent a considerable amount of time putting this together."
Senior guard James Blades said it was a good thing for the senior class to enjoy the event and for the basketball team to play in front of fans when its first opponent, Belton, Mo., had already played three games.
"I enjoyed it with all the seniors getting together and we had three practices for our skit," Blades said.
The girls squad also held a red-white scrimmage with assistant coaches Erin Barnett and Cara Kimberlin leading each side. Junior guard Mallorie Cleveland said it is nice to know the junior class was part of a group that founded a new tradition at Eudora.
"I think it was a good idea and it sets a trend for the school in the future," Cleveland said. "The scrimmage got us hyped up big time, after having a whole crowd watching us play."