EHS

girls skim by in last minute victory
Sometimes its the small things that make the difference in basketball games, the things that coaches make players work on tirelessly. Things like free throws, which almost cost the Eudora High School girls basketball team when it made 15 of 36 in Tuesday's game against Louisburg.
However, senior guard Brandi Abel made the two most important ones, as she sank two free throws with six seconds in the game to give Eudora a 44-42 victory. She finished the game with six points.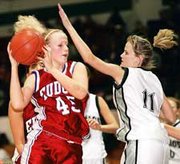 "Brandi Abel is pretty solid all the time," Head Coach Gretchen Schreiner said. "It's good to have positive feelings and end (the pre-Christmas season) with a good note. The girls are working hard in practice so this was good for them."
Schreiner said the close final score wasn't indicative of the entire game.
Eudora (2-4) (0-2) spent much of the non-league contest with a comfortable lead that fluctuated between 10 and 12 points. Sophomore Lauren Kracl scored 21 points and grabbed 14 rebounds while junior Mallorie Cleveland ran the offense and contributed seven points. Louisburg (0-6) fought back to get in a position for its first win of the season before Abel free throws iced the game.
Senior starter Sarah Katzfey, who missed most of last season with an ACL injury, said she is gaining confidence in her game and that the senior class will surprise those who underestimate the team.
" We would definitely like to try to make a statement," Katzfey said. "We've all been playing together since seventh-grade and a lot of people don't think we're the greatest but we want to prove them wrong."
On Jan. 11, the Cardinals will travel to Louisburg for a Frontier League game.
On Friday night, Eudora tried to work within a patient offense and continue its strong defensive play in a 41-33 loss at Prairie View (3-2).
The Cardinals used an overall defensive team effort to hold the Buffaloes scoreless through the first four minutes of the game. Kracl was unstoppable in the first half, scoring most of her 17 points during that part of the game. She also finished with eight rebounds, three blocks and two assists. Senior center Jill Woodward, one point and three rebounds, played aggressive defense for Eudora as the Cards headed into the break behind 13-10.
"We had a focus of keeping things under control and I was making them be patient tonight," Schreiner said.
Junior Tina Lauber, four points, came off the bench to score the only bench points of the game for Eudora.
Brandi Abel, eight points and four rebounds, and Cleveland, five points, gave the Cardinals hope of a victory in its first road game of the season before a 9-0 Prairie View run lead to an eight-point Buffaloes victory.
Schreiner said that the 17-day holiday break before the Cardinals' next game will give the team a good chance to work on things once practice resumes.
"We're going to work on controlling the ball, free throws and work on handling pressure," Schreiner said.
The road will get tougher for EHS as its competes with two of the better teams in the Frontier League after the break.
Eudora will play next Friday Jan. 4, at Anderson County in Garnett before returning home on Tuesday, Jan. 8, to host Spring Hill.