Agency's volunteer program helps residents keep independent lifestyle
Bill and Darlene Trieb are two Eudora residents thankful for the kindness of others.
Both have trouble walking, which makes tasks such as going to the grocery store or cleaning their apartment difficult. With some help from a Douglas County agency and a Eudora volunteer, the Triebs are able to maintain their independence and stay in the Pinecrest apartment they call home.
Interfaith Caring Neighbors (ICAN), is a non-profit organization consisting of 15 area church congregations. ICAN works with people over age 60 who live independently, but need some assistance.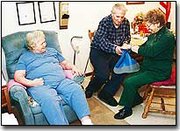 Eudora resident Elva Kindred joined ICAN through Eudora United Methodist Church. She visits the Triebs periodically, helping with chores and taking them meals provided through her church.
"I take them to the bank, to the grocery store and to the beauty shop," Kindred said. "He just calls frequently and wants me to check something out."
Darlene Trieb said Kindred's help has been a blessing.
"I can't do chores and I need help bathing," Trieb said. "Elva kind of cooks a little bit and cleans the house. I like her."
Older citizens needing groceries delivered to their home, minor home repair or just wanting someone to talk to may want to look into what ICAN has to offer.
Director Rita Mika said that by assisting older citizens with simple tasks, the organization tries to delay the need for them to move to a nursing home.
"We try to avoid that, or delay it as long as we can through our services," Mika said.
ICAN offers five programs to participants, all of which are done by volunteers.
The visiting program provides a worker once a week. The volunteer may do simple tasks such as reading books or getting mail. In the phoning program, a volunteer checks in with an ICAN participant by phone on a weekly basis. The grocery shopping program provides a worker who will shop for a participant. Handy-person services are also available for minor household repairs such as leaky faucets or broken hinges.
One other service is caregiver respite. The program provides a worker that stays with an individual so a caregiver can take a break. Mika said this program was one of the more needed services ICAN provides.
Volunteers who participate in the program must undergo training to ensure participants get the best possible service.
"There is a two-hour training period," Mika said. "Information is given on ICAN and our procedures for each of the paths we choose. And, there's just some basic information on dealing with elders."
Angie Stoller signed up as a volunteer in March 2000, but moved to Lawrence shortly afterward. She continues to help in Eudora by visiting a local ICAN participant. Stoller grew up in a small town and said the reward has been worth the work.
"You can tell they're really glad to see you," Stoller said. "And, I get to help someone stay independent."
Anyone interested in more information on ICAN may call 749-2005.
More like this story