Cardinal wrestlers continue to shine with dual victories
The Eudora matmen improved their dual record to 8-1 with victories over league foes Prairie View and Wellsville last Thursday at Eudora High School.
Senior Brian Harris continued his domination, pinning his 135-pound Buffalo opponent in the second period and sticking Jaread Stonequist of Wellsville with 28 seconds left in the opening period of the 140-pound weight class. Harris is now 19-0 for the year.
Although Harris was the only winner of the four matches wrestled against the Eagles, nine forfeits gave Eudora a 60-15 win.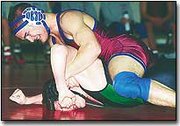 Against Prairie View, the Cardinals racked up 50 points to the Buffaloes' 12. Sophomore Luke Powers, at 145 pounds, recorded the fastest pin of the evening.
Jason Marmon, a junior at 215 pounds, took a major decision, 17-4, and sophomore Austin Roberts, in his first varsity match, posted a 16-7 major decision at 140 pounds. Matt Linzer added an 11-4 match at 112 pounds.
Brandon Werst (119), Mark Lister (125) and James Barr (160) each won close matches.
Werst scored a takedown with just more than a minute remaining to win 7-5. Scoring eight points in the first two periods, Lister hung on for an 8-6 victory, and Barr reversed his opponent with 55 seconds remaining for his 5-4 advantage.
Carl Holz (130), Chris Pittman (152) and Ronnie Morelan (171) all won by forfeit.
"The team has wrestled well on paper this year and have won some big matches, but I feel we are spinning our wheels a bit. We're not going backward, but are not moving forward either," fifth-year EHS coach Ron Abel said.
"The next two weeks will really determine our success at regionals and state. It is time for us to decide if we're ready to reach the next level," Abel continued. "Our seniors are there, but our underclassmen must step it up if they are to help us reach our team goals."
The Cards host a double dual tonight with Louisburg and Anderson County and travel to Immaculata for a tournament Saturday.
The following Tuesday, Eudora goes to Baldwin to face the Bulldogs and Paola. Paola finished second while Eudora took 13th at the Basehor tournament. Baldwin currently holds the same loop record as the Cardinals, 4-1.
Also included in Abel's two-week critical stretch is the Frontier League tourney at Wellsville where Eudora will again see favorites Paola and Spring Hill.