Cardinals get boost with win over Wellsville
Lady Cardinals lose tournament but gain confidence in Wellsville
The Eudora High School girls basketball team walked away with huge grins on their faces Saturday from the 11th Annual Top Gun Tournament in Wellsville.
Though the Lady Cardinals finished seventh in a field of eight, Saturday's 68-54 win over the host Wellsville was a satisfying experience for the team.
"It feels great to beat somebody badly," Coach Gretchen Freeland said. "The girls played really well today. It's been a real tough week for us. We've had a lot of illness and didn't know who was going to be here until they got to the school."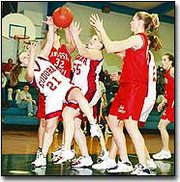 Junior Brandi Abel agreed the tournament was competitive.
"This was a tough tournament to play in," she said. "Everybody played the best they could. We've had to play it by ear on who was going to play all week. It feels great to win."
Eudora worked with what it had and proved they could accomplish what they wanted if they played strong the whole game.
"My hope is that they now know what it feels like to win when they have intensity for all four quarters," Freeland said.
In a third-quarter surge, the Cardinals were jump-started with two baskets by Jessica Bryant and Abel. The effort allowed Eudora to pull within one point after trailing 32-29 at the break. Then, Lauren Kracl knocked in another to give her team a 35-34 lead.
It didn't matter that Kracl, one of the Cardinals' leading scorers, didn't play in the second quarter. The Lady Cardinals stayed in the game.
"She (Lauren) had two fouls early on, but we were able to hang around without her," Freeland said. "We invited her back into the game in the second half and she really got after it for us."
After scoring just two points in the first quarter, Kracl bounced back without missing a beat, hitting 7-of-13 shots in the second half. Kracl scored six of the 16 points in a crucial third-quarter run.
Mallorie Cleveland, who had 5 points for the game, scored a bucket off a pass from Kracl in the last second of the third quarter.
For the quarter, the Cardinals outscored the Eagles 22-6. Eudora led 51-38 heading into the final quarter. In the first four minutes of the fourth quarter, the Cardinals put together a 10-4 run, increasing their lead to 19 points, 61-42.
With 2:19 left in the game, Wellsville's Jackie Caruthers pumped in a three-pointer. Wendy Moore was fouled and hit two from the free throw line. Caruthers hit another three with 16 seconds left in the game drawing her team within 12. However, by then, the game was out of the Eagles' hands. Brandi Abel hit a jumper with three seconds left to close out scoring.
Bryant led Eudora scorers with 18 points. Kracl had 16 and Brandi Abel added 15. Jami Anderson scored 20 points for Wellsville and Caruthers had 19.
Abel scored a career-high 15 points for Eudora.
"She hasn't had a lot of shooting confidence," Freeland said.
However, Abel might gain the confidence she needs after shooting 7-of-14 from the field against Wellsville.
"It feels different," Abel said. "I started getting more confidence to shoot during this game."
In other tournament action, Eudora lost 65-38 to Ottawa in the opening round Tuesday night. The team then lost 60-35 Thursday night against Anderson County in a consolation game. No. 1 seed Ottawa won the tournament, beating Kansas City Piper 73-66 in Saturday's championship game.
Bryant scored 44 points for the Cardinals throughout the tournament.
Kracl was named to the all-tournament team and Eudora's Sarah Katzfey took third place in the tournament's free throw contest.
The Lady Cardinals got off to a slow start Tuesday night against Oskaloosa, but managed to pull out yet another victory.
EHS beat the Lady Bears by two points, 45-43, improving their record to 5-8 for the season.
Freeland said she was thankful for the win because her team was not at its best.
"We were just very sloppy from the start," Freeland said. "We did better in the second half, though."
Eudora scored 13 points to Oskaloosa's six in the third quarter.
Bryant led the Cardinals with 24 points.
Kracl had 10 points and 14 rebounds for Eudora.
The girls' next game will be Friday night at Osawatomie.