Eudora boys win close one with Louisburg
Close games seem to be the rule for the Eudora boys' basketball team this year. Friday's victory over seventh-ranked Louisburg was no different.
The Cardinals never had a secure lead but were able to stunt the Wildcats with a 48-45 triumph.
"It was a great win," Coach Chad Eshbaugh said. "The defense did a good enough job to keep them under 50 points. And, we scored enough to win. Louisburg has a respectable coach and a respectable team. Anytime we win against them, it feels extra special."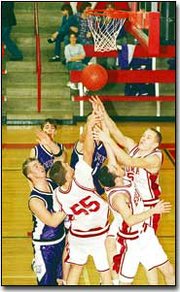 Unlike earlier in the season, the boys are winning, rather than losing, the close games.
Eshbaugh said he wasn't sure his team would ever get past playing tight games. Senior Matt Fisher agreed.
"I think we're gonna play a lot of close games for the rest of the year," Fisher said. "I don't see us blowing out any team or getting blown out. We compete too much. We're just not going to give up."
A 12-12 tie after the first quarter gave a hint of what the rest of the game would entail. It remained tight and the Cardinals never led by more than five points, except for a couple of minutes during the second quarter.
Eudora earned its first five-point lead after two back-to-back buckets by Lear Bowling about three minutes into the second quarter.
Louisburg's Eric Pemberton, who scored 13 points in the game, hit another one 20 seconds after his shot. Wes Hinman posted an easy layup 14 seconds later. Louisburg called a timeout about eight seconds later to discuss strategy. It proved to be futile as Hinman knocked in another basket to give Eudora a 24-17 lead, the largest of the game.
The Cardinals weren't able to hold on to the lead as the Wildcats tightened the gap in the last minute of the half. Mitch Langley scored two baskets to help pull Louisburg within three points, 26-23. Then, Mark Edgar went to the line and hit 1-of-2 to close out scoring for the first half, leaving Eudora with a two-point lead, 26-24.
Hinman and Fisher combined for 15 of the Cardinals' first-half points. Pemberton had 10 for Louisburg.
During part of the first half and all of the second half, Eshbaugh had to be stingy with foul-troubled Zac Tyler and John Powers, forcing him to rely more on the bench.
"We had good production from the bench," Eshbaugh said.
Tyler and Powers have been key scorers for the Cardinals this year. Against Louisburg, however, Tyler was held to six points and Powers to four.
With Eudora leading 36-31 halfway through the third quarter, Edgar scored two baskets within 30 seconds. The Wildcats trailed by just one. Brian Batchelder of Louisburg then scored another with 1:32 left in the quarter to give the Wildcats their first lead since early in the first quarter.
They didn't hold it for long, as Fisher pumped in a 3-pointer with a minute left to give Eudora a 39-37 lead.
Fisher started the fourth quarter with another three, but Pemberton answered with one of his own.
Eudora maintained a two-point lead until about three minutes remained when Jared Dorsch tied the game at 44. At the end of the fourth quarter, Eudora was up by just one point with 6.4 seconds to play when Edgar fouled Fisher. Fisher hit both free throws to finish off scoring for the game, 48-45.
"We came out and showed everyone that's what we can really be on any given night," Fisher said.
The Wildcats fell to 9-4 on the season after Friday's loss to EHS. Meanwhile, Eudora improved its record to 7-4. The Cardinals have won their last five games and six of the past seven after starting the season 1-3.
"I am glad we got a win over such a good team," Fisher said. "I think we're gonna be pretty competitive the rest of the season. It feels pretty good and gives all the guys on the team confidence."
Fisher led all scorers with 19 points. Hinman added 12 points.
"I don't necessarily go in planning to score a lot of points," Fisher said. "I just want to do whatever I can to help the team win. If it means going out and scoring points, I do. But, there are other guys on the team who could just as well score 20 points a game."
In yet another close game, the Eudora boys beat Oskaloosa 47-44 Tuesday night.
A strong first quarter and a 31-22 halftime lead almost did not hold up for the Cardinals.
The boys struggled in the fourth quarter scoring just five points.
"We won, but did not play up to our capabilities," Eshbaugh said. "I don't know whether we relaxed or lost focus after the first quarter, but there didn't seem to be much concentration during the rest of the game."
During the fourth quarter, the Cardinals scored just 3-of-10 from the free throw line.
"I didn't feel like we played as well as we've been playing," Eshbaugh said. "We were fortunate to come out on top tonight."
Fisher and Tyler led scoring for Eudora with 13 apiece.
The Cardinals travel to Osawatomie Friday night.