On the fast track to glory
Nottingham International Raceway hosted 42 Cubs Scouts for the 2001 Pinewood Derby Saturday morning.
Racing down the 32-foot span, Cubs competed by den (grade level) with the top two racers advancing to the championship round.
The Brothers family cleaned up with twins Adrian and Tristan placing first and second, respectively, in the championship round and father John taking first in the open class.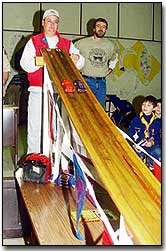 "I beat everyone except I didn't beat Adrian," Tristan said of his green fire racer. "My award was beautiful."
Adrian said he was very excited to win and that both of his parents helped. Adrian's dragster was dark blue with a dragon decal.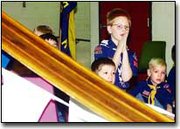 As with most of the Scouts, the twins chose the design and Dad cut it out with the bandsaw.
The boys' mother, Mary Fairburn, prepped the wheels, spending two hours on each wheel and axle, even polishing graphite into the outside of the wheels.
"We mainly looked on the Internet for tips and used the ones that made sense," Mary said. "The secret is a combination of a bundle of little factors, but it's got to be on weight and the wheels have to be straight. Tristan's car was a little taller, so maybe it wasn't as aerodynamic."
Third-place winner Mike White enjoyed his first Pinewood Derby race.
"It was really cool and fun. My Dad (Bob White) and I spent maybe 7 to 10 hours on that car," the fourth-grader said.
2001 Pinewood Derby results
Tigers (1st grade)
1stJared Ireland
2ndLucas Becker
3rdKevin Robinson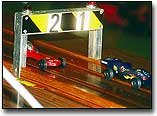 Best designKevin Robinson
Best finishLucas Becker
Wolves (2nd grade)
1stAdrian Brothers
2ndTristan Brothers
3rdNathan Gentleman
Best designJosh Bakarich
Best finishAlexander Sisson
Bears (3rd grade)
1stJohn Chumbley
2ndJonathan Morrison
3rdThomas McLees
Best designCasey Boone
Best finishJohn Chumbley
Webelos I (4th grade)
1stMike White
2ndBryan Kindle
3rdJacob Wesley
Best designEthan Becker
Best finishMax Campbell
Webelos II (5th grade)
1stChris Robinson
2ndNick Tillman
3rdDavid Lewis
Best designNick Tillman
Best finishChris Robinson
Championship round
1stAdrian Brothers
2ndTristan Brothers
3rdMike White
Open class
1stJohn Brothers
2ndMax Campbell