Cardinal wrestlers continue to dominate
Eudora wins Immaculata Invitational with outstanding performances by all
Eudora High School wrestling Coach Ron Abel enjoyed a "first" Saturday at Immaculata's Invitational.
For the first time in his five-year tenure, Cardinal grapplers competed in the finals or consolation finals of all 14 weight classes.
"I sat down at the start of 103 and stayed there through 275," Abel said. "That's never happened to me before."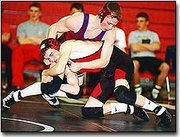 Since all 14 wrestlers placed, Eudora cruised to first place in the 10-team tourney, scoring 203.5 points. Lansing finished a distant second with 127.5 points, and Horton was third with 92.5. Eleven Cardinals earned medals by taking third or higher and six were crowned individual champions.
Brian Harris remained undefeated and topped the 135-pounders. Fellow seniors Dustin Crowe and Brett Becker, at 119 and 140 pounds respectively, also won, as did Matt Linzer (112 lbs.), Jason Marmon (215 lbs.) and Shane Grant (275 lbs.).
Second-place showings were made by Sam Campbell (130) and Zac Hamlin (189). James Snow (103), Mark Lister (125) and Ronnie Morelan (171) each won their consolation final to take third. Placers were Luke Powers (145), Chris Pittman (152) and, in his first varsity tournament, Bo Hopson (160).
Last Thursday, Eudora took advantage of its third week in a row at home to pound Louisburg 66-15 and edge Anderson County 41-36. The dual with the AC Dawgs was one of the few close ones this season. The Cardinals have outscored their opponents 565-230 while posting a 10-1 record, a 30-point average win margin.
Eudora honored its seven senior wrestlers and senior cheerleader Wendi Burke in their last home appearances.
Becker exerted some senior power, pinning both Louisburg and Anderson County opponents. Crowe beat Louisburg by fall in the second period and scored a 10-1 major decision over AC.
Additional senior performances on the night included a second period pin by Hamlin against the Wildcats, a 13-4 decision by Harris over AC and a takedown by Campbell with 1:22 left in overtime that lifted him to a 7-5 victory against the Bulldogs.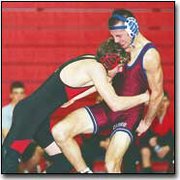 Senior Justin Sorenson, in his first season of Cardinal wrestling, overpowered his 'Cat foe in just over a minute for six team points; and Neil Dunavin, a four-year participant, competed in regional scholar's bowl that evening.
Other Eudora winners on the night, all by fall, were Linzer and Lister against Louisburg and Powers versus AC.
Thursday the Cards face their toughest dual challenge of the season with a trip to Baldwin.
"Baldwin is much improved and it will be close. If we wrestle well we should win," Abel said. "Paola is a strong, deep team with six or seven of its wrestlers ranked in 5A. They are by far the league favorite."
Eudora will travel to the Wellsville Saturday for the Frontier League Tournament.