Crystal-clear creations
Eudora man colors his world with stained glass creations
Chuck Harris views the world through many different colors. Most of which he shapes with his hands and a few tools in the basement of his Eudora home.
A retired truck driver, Harris began working with stained glass after a visit to Branson, Mo., with his granddaughter six years ago.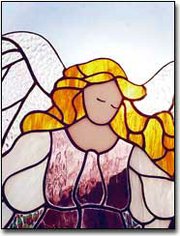 "We walked into a stained glass shop and she said 'Grandpa, can you do that?'" And I said, "'No, but I'd like to.'"
Not long after, Harris saw the light and his new hobby took shape. He began taking classes to learn about the craft. Though he picked up the art quickly, he also learned the hobby wouldn't be cheap. With diamond-dust-tipped sawblades costing $100 and glass costing up to $75, each piece of art can be a costly venture.
"The main (cost) in stained glass is tools," Harris said. "They're very expensive."
To start the process, Harris buys a pattern and then searches for the glass to fill it. Next, he shapes the pattern with diamond-tipped sawblades. After assembling the glass on the pattern, he uses lead solder to connect the pieces to a copper frame.
He said it's hard to put a time estimate on his work. Each piece depends on the intricacy of the pattern and the amount of glass needed to complete the work.
"You can't figure an hourly wage on this, it just takes too much time," Harris said. "I work until I get tired or until something comes up."
When finished, the work is a light-capturing piece that Harris is proud of something he's made with his own hands.
"I enjoy making it," Harris said. "I enjoy when I put this up there and the light shines through it. I enjoy the colors."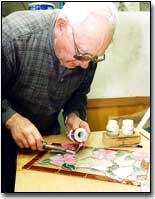 Harris isn't the only one who gets to enjoy the rays of light coming through his work. Much of his work hangs around his house and he has several pieces for different holidays.
"Most of this stuff is all giveaway. The rest of this is my wife's," he said.
Occasionally, Harris is commissioned to make a stained glass figure or hanging. On one instance, he made an angel for friends whose daughter had died. The angel was modeled after the daughter who had black hair. He said finding translucent black glass wasn't an easy task.
But when it comes to his own work, he takes his time a benefit of being retired.
"I hunted and hunted and hunted (for black glass) and I was glad when I was done," he said. "Other than that, it doesn't matter too much if I don't get it done. I'm old and cantankerous."
More like this story