Hot for teaching
Firefighters turn classroom training into field experience
Eudora firefighters working at the scene of a house fire got some hands-on training on Saturday. Fortunately, the incident was staged to train local firefighters in proper techniques of fire and rescue.
The Eudora Fire Department held an all-day training drill for its new class of recruits at an abandoned house at 917 Pine Street. The class was held in Eudora in conjunction with a level-one certification course offered through Kansas University.
During the training, each recruit was expected to demonstrate fire hose maneuvers, rescue simulation, ladder operations, ventilation tactics, fire behavior and fire control.
Eudora Fire Chief Spencer McCabe helped lead the training.
"They have to have so many class hours and they have to have so many training hours," McCabe said. "What we did Saturday was allow them to put what they've learned at the class into action to this point."
Firefighters in training began classes Jan. 9 at a classroom at Eudora Middle School. The class meets Tuesday, Thursday and Saturday and averages 18-20 hours per week. After covering 19 chapters, participants put their knowledge to the test.
McCabe said he was pleased with the 10 trainees and 10 veterans who helped the exercise be a success.
"It couldn't have gone any better," he said. "My staff and I were extremely pleased with everybody's performance and attendance.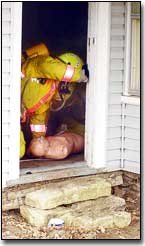 "To be able to see what they've done at this point is mind-blowing. I can't put enough praise on the members of this department for what they've done."
Jimmy Hoover and Stan Wilson, both of Eudora, donated the house. McCabe said he was appreciative of the community for its support and apologized for any inconvenience the exercise may have caused.