A case of the collecting bug
From Volkswagen Beetles to kitchenware, Larry Gantenbein loves to hunt for collectibles
The year was 1954 when Larry Gantenbein saw his first Volkswagen Beetle. Instantly, it was love at first sight. After his introduction to the funny-shaped car, Gantenbein said he's never been without.
"I've always had a Volkswagen Beetle," he said. "That's how it happens, you just buy one and the next thing you know"
The next thing he knew, he started a collection.
"When I moved to town I had five of them," Gantenbein said. "I thought they were going to kick me out so I sold four of them."
He saved one to restore, but his love for "lovebugs" continued with a variety Beetle collectibles. An upstairs room in his Eudora house is filled with different sizes of the cars.
However, cars aren't the only things his collective urge seeks.
Gantenbein also has an extensive collection of green Depression glass. The collection, which is made up of saltshakers, plates, glasses and anything glassware, was given out during the Great Depression. Looking at pieces displayed in a curio cabinet, Gantenbein said his collection is close to 500 pieces.
"It's nothing fancy, it's just green Depression glass," he said. "I've probably got twice as much in the basement. We don't have a cabinet for it."
Gantenbein said he's always been the collector type, but his love for the hunt grew after meeting his wife of 20 years, Loretta.
"When we first got married, we stated going to a lot of flea markets and auctions," he said.
Loretta said she enjoys collecting and is glad she and her husband have a common bond, something they can share together.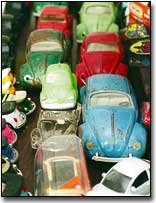 "I've always had something I've collected; something to watch for," she said. "We still go every Monday night (to an auction) at Gardner."
Together, the couple have around 75 oil lamps they have collected, along with blue-and-white-swirled graniteware kitchen utensils, pots, pans and other items.
Larry said though he likes collecting and is glad to have something special to share with his wife, sometimes it does become costly.
"I get to the point where I start collecting something, it gets expensive and I quit doing it," he said.