Eudora boys jump for Silver Lake victory
A strong third quarter led the Eudora boys basketball team to a 45-39 home victory over Silver Lake Tuesday night.
The win improved the Cardinals' season record to 10-5.
"I don't know how to describe that game," Eudora Coach Chad Eshbaugh said. "I thought we came out kind of flat tonight. We had some good looks at the basket, but they just didn't fall. We have got to do a better job offensively."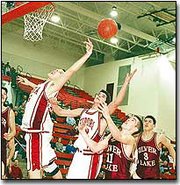 Eudora hit 32 percent from the field in the first half. They turned around in the second half, hitting 12-of-25.
"We're one of the best defensive teams in the league, but we've got to play better offensively," said junior Tommy Stein, who hasn't played much in the past few weeks because of injuries. "We have a tendency to play down to other people's levels."
Eudora's pertinent third quarter was opened by a pass and easy shot inside by Zac Tyler. Tyler hit 3-of-3 from the field for six points in the quarter. The Cardinals kept Silver Lake from scoring until 3:30 remained in the period. Senior Matt Fisher scored four of Eudora's third quarter points but hit just 1-of-5 from the field. Eudora had an 11-point lead at the end of the third quarter.
"The best wins are the ones that you feel comfortable in and not threatened," Eshbaugh said. "In the first half, they were right there with us and we weren't making the shots. Fortunately, for us, we are strong defensively. When we're stronger offensively, that's when we click."
Eudora's offense came alive in the fourth quarter. Junior Wes Hinman and Fisher scored six points each for the Cardinals. Tyler added four points in the fourth.
About a minute into the fourth quarter, Junior Tommy Shutt stole the ball and hit an off-balance, backward lay-up to open scoring for the quarter. Tyler then stole the ball and fed it to freshman Tyler Cleveland, who sank another short shot.
Silver Lake called a timeout right after to develop a stronger defensive plan.
An increase in defensive pressure was matched by Eudora's offense. Hinman blocked two shots, less than a minute apart. With just under six minutes to play, Hinman hit a basket off an open pass from senior John Powers, increasing Eudora's lead, 41-26.
A minute later, Fisher scored after running the clock for about 40 seconds. The bucket gave the Cardinals their biggest lead of the game with a 17-point edge. Eudora kept the momentum going and secured the 15-point victory.
Fisher led all scorers with 18 points, including 6-of-6 from the charity stripe. Tyler scored 13, Hinman had 7 and Stein scored 4.
The Cardinals hope to perform well during the next few games and secure a home-court advantage for sub-state play, which begins Feb. 26.
"We need to win a bunch more this week to play at home for the first game of sub-state," Eshbaugh said.
Eudora travels to Paola Friday night and then plays Anderson County at 3 p.m. at Gardner-Edgerton Saturday.