Johnson County church finds new home in Eudora
Churchgoers looking for a back-to-basics approach to their faith may want to look into a church that's making a new home in Eudora.
Bethel Missionary Baptist Church held its first Eudora Service Nov. 4, 2000, in its new location at 11th and Maple streets.
Deacon Charlie Duncan said the church needed a new building after growth in the area pushed the congregation from its former Johnson County location.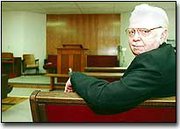 "We were in Shawnee for 37 years in a one-room schoolhouse that we had rented," the Baldwin City resident said. "Due to development in the area, we pretty much just got pressured out. We were lucky enough to find that building in Eudora."
After purchasing the former Church of Christ building, church members went to work painting and remodeling it.
Pastor Darrell Hargiss, Olathe, said he was pleased how the church's interior turned out.
"I think it's a beautiful church on the inside," Hargiss said. "It needs painting on the outside. We've still got that to do."
Duncan said the Missionary Baptist denomination is of the Christian faith and uses a basic approach to teaching.
"Our church is set up on the King James Version of the Bible," he said. "We don't let any other papers or literature be used. There are no modern Bibles or anything. We believe all the answers are in the old Bible."
The church also votes annually on a pastor. This is Hargiss' third year as pastor of Bethel Missionary Baptist Church.
With 25 members, Hargiss said the church remains small because of its classic approach to teaching the Bible.
"We're probably more of what you call old-fashioned," he said.
Sunday school classes are at 10 a.m. at the church. Morning worship is 11 a.m. and evening worship is 6 p.m., Sundays.
Though not occurring until "the first (part) of March," evening prayer meetings will be at 7:30 p.m. on Wednesdays.
Anyone wanting more information on Bethel Missionary Baptist Church may call Hargiss at (913) 782-2312.