The best is yet to come from Lady Cardinal's standout freshman
Eudora freshman Lauren Kracl has posted some impressive numbers for the girls basketball team this season and has been a key player, but she and Coach Gretchen Freeland expect more.
"I'm happy, but not satisfied yet," Freeland said. "I still expect bigger and better things out of her playing here."
Kracl agrees.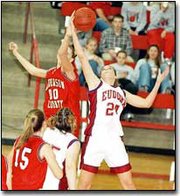 "I haven't played as well as I'd hoped," the post forward said. "I don't think I've filled my role completely yet. There's a lot expected of me, and I already expect more than that for myself."
Kracl has already fulfilled her pre-season goals of starting for the varsity and averaging at least 10 points a game. Currently, she is averaging 13 points per game. She scored 20 points Tuesday night against Paola. She a season high of 23 points.
Coming in as a freshman and a key player for the girls was a bit intimidating for Kracl.
"I was more worried about being a ball hog than anything else," she said. "I'm still nervous every game."
She knows her coach expects a lot of her.
"She expects me to play in the games, be in shape, score, shut down the post and box out," Kracl said.
Going into the season, Freeland's goal was for Kracl to score. She knew that Kracl had the capability and would continue to improve as a team player.
Freeland said that Kracl has made an incredible difference defensively for the team.
"Her rebounding ability has boosted us a lot this year," Freeland said. ""I also definitely didn't expect to have her block so many shots for us this year."
Kracl grabs an average of 10 rebounds a game and blocks about three shots. She also averages four steals per game.
During two of her earlier basketball years, Kracl played point guard. She views herself as a strong shooter when the shots are falling.
"I like shooting from the outside," she said. "But if I can't get my shots off, I like shooting from the post."
Freeland said Kracl brings more than athletic ability to the Lady Cardinals.
"Lauren's got the personality that makes it so she fits in well with the rest of the girls," Freeland said. "Basically, she's a low-key person and is very athletic. She's tall and not cocky whatsoever."