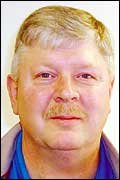 The 53-year-old Rice and his wife, Alandra, have two grown daughters. Rice has lived in Eudora for 41 years.
Education: Eudora High School graduate.
Professional background: Union meat cutter for 30 years.
Political and civic experience: Current member of the Eudora School Board; he will finish his third term on school board in July.
As a member of the Eudora School Board, what approach would you take to the district's rapid growth?
The present school board has invested a lot of time and hard work in dealing with the overcrowding.
Our architect has provided the school board with about eight positions. The board narrowed these down to three possibilities. As we meet with members of the community and city leaders, maybe more options will come to light.
We want to keep the people of Eudora informed at all stages of this process. Hopefully, informed voters will make positive decisions about the future of our children.