The 48-year-old Clark has three children. She has lived in Eudora 16 years.
Education: Graduate of Beloit High School; received associate of arts degree from Cloud County Community College; three semesters from Kansas State University and Kansas University with emphasis in Business Administration.
Professional background: Presently employed by the East Central Kansas Cooperative in Education, which provides services to special needs students in Baldwin, Eudora and Wellsville. I worked for 10 years for Lawrence USD 497 as payroll clerk. For five years, I was the office manager for the Lawrence Alternative High School.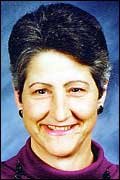 Political and civic experience: Presently: Member of the Eudora United Methodist Church, elementary PTO, EMS & EHS booster clubs and EMS Site Council. Past: Board of Education (1995-1999), church board of trustees, Sunday school teacher, church education committee, Eudora West Site Council, USD 491 Special Education Cooperative Board of Directors, Eudora Amateur Baseball Association, board of directors and coach, and assistant coach one year for girls' summer softball.
As a member of the Eudora School Board, what approach would you take to the district's rapid growth?
Overcrowding and safety have become urgent issues. If we are to provide our students with opportunities and technology exposure they need to be successful, then we definitely need to do more than a temporary fix or Band-aid approach to solving this growth situation.
As a community and district that has always supported our youth, we need to seriously look at what is in the best interest of our students (now and for their future). We definitely need space and space means building (a new affordable, adequate facility or additions). Whatever it is we choose to do we need to do it soon, as the crunch is already here.