The 49-year-old Abel and his wife, Anita, have two children who attend Eudora schools. The Abels have been life-long residents of Eudora.
Education: Graduate of Eudora High School. From there, Abel attended three years at Pittsburg State University. He also has a year at Kansas University and one summer session. He has a total of 140 hours in college credit.
Professional background: Member of Carpenters' Local No. 714 since 1979.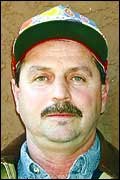 Political and civic experience: Served as an officer for Carpenter's Local No. 714, mostly as recording secretary, for 15 years. He has helped coach baseball for eight years in Eudora and helped with youth basketball for four years. He has spent about eight years on the school board.
As a member of the Eudora School Board, what approach would you take to the district's rapid growth?
I've seen houses pop up everywhere, but that still doesn't explain why the school district's enrollment has remained the same for two years. The word "rapid" may be a stretch.
Four years ago, when I ran for the board, I was supposed to answer the very same question. You would think once in a while there would be other reasons to run for school board other than just being on board to rubber stamp another building proposal. Besides, whichever way one felt about it, it would still be hard to explain in 100 words or less.
More like this story