The 63-year-old has four children. He is a life-long resident and a fourth-generation Eudoran.
Education: Eudora schools; three years at Kansas State University.
Professional background: Dairy farmer, custodian at Nottingham. Now manages Eudora Relics.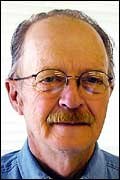 Political and civic experience: 4-H leader, Douglas County Extension Board, Douglas County Fair Board, Eudora Library Board. Coached girls softball for 12 years; Eudora Township trustee for 25 years; helped organize Eudora Township Fire Department and Eudora Emergency Medical Service.
As a member of the Eudora School Board, what approach would you take to the district's rapid growth?
This is one of those issues that deserves lots of team work and brainstorming to come to a solution that meets the needs of the citizens of Eudora. Perhaps we could build a new junior high out south with a practice gym. It appears the lower-level classes are going to need the overcrowding needs met sooner. One solution might be to have the PEP, kindergarten, and first grades moved to the middle school after it was remodeled. It was stated at the last board meeting that this decision would need to be made before the new board comes into position. I hope they make their decision looking down the road and not at just what works best for the moment.