King-size competition
Eudora chess teams compete in weekend tournaments
Many Eudora students are learning the value of exercising their minds as well as their bodies.
Chess teams from Eudora High School and Eudora Middle School traveled to Bonner Springs Saturday for a Kansas Scholastic Chess Association tournament.
Eudora took 17 students to compete in the tournament that featured 230 chess players from around the state.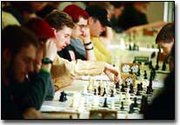 EMS teacher and chess club sponsor Dan Kuhlman said the middle school chess team began about five years ago. The high school team was organized this year, Kuhlman said.
"A few of the students who participated in middle school went on to high school and wanted to continue playing," Kuhlman said. "Erik Peltzman volunteered to be the sponsor and that's worked out great."
Both teams practice at least twice a week and attend tournaments whenever possible, Kuhlman said.
The Saturday tournaments usually last most of the day, but the students have plenty to keep them occupied, the coach explained.
"In a tournament, each student plays six matches," he said. "If they win one, they play another student who has won one, when they win two, they play another student who has won two matches and so on. So, the competition gets tougher as they continue winning."
Peltzman said the intensity of the competition sticks with the students long after the tournament is over.
"A lot of kids tell me they go home and dream of chess pieces and how they move," he said. "We're really tapping into a different part of their minds."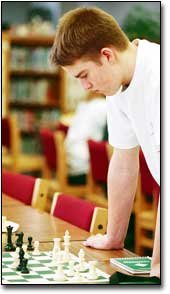 According to tournament rules, players receive one point for each win, and 1/2 point for a stalemate. Scores from the top four players on each team are used to determine team scores.
The EMS team finished fourth out of 17 teams at the Bonner Springs tournament. EHS finished eighth out of 13 teams.
Top individual finishers in the tournament included high school students Austin Roberts and Jared Pringle who both finished with four wins and two losses.
Frank Male and Jesie Stout were the top finishers on the EMS team. Both finished the day with four wins and two losses.
Also competing on Saturday were EMS students Craig Elmer, Matt Morgan, Kyle Cox and Ray Ramirez.
EHS students competing included Jeff Jones, William Steele, Jeremy Immer, Brandon Werst, Troy Van Horn, Ashley Frost, Jesse Murphy, Seth Pittman and Neil Dunavin.
The chess clubs will compete March 10 in the state tournament in Wichita.
More like this story