Lady Cardinals close home season with win
A 7-0 run in the third quarter Tuesday night fueled the Eudora girls basketball team to a 40-36 win over Gardner-Edgerton in the Cardinals' last home game of the season.
"They played absolutely magnificent tonight," Eudora Coach Gretchen Freeland said. "They played together wonderfully and did a great job."
Senior Jessica Bryant agreed the girls played extremely well.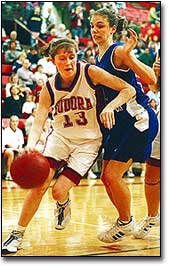 "Tonight was probably the best game that we've played all season," Bryant said. "We really pulled together tonight."
The Cardinals led 19-17 at the end of the first half.
Junior Brandi Abel helped her team increase its lead by hitting an early bucket in the third. Freshman Lauren Kracl was the next to score for the Lady Cardinals, sinking one from the free throw line. About two minutes into the half, Bryant scored, giving Eudora a 24-17 lead.
Stymied by the early run of the Cardinals, the Trailblazers called a timeout with 5:40 left in the quarter. With 4:15 left, Kracl stole the ball and Brandi Hime converted the steal into two points seconds later for Eudora. A minute later, Bryant posted another two points for a 28-19 lead.
The Cardinals rendered the Trailblazers scoreless in the third quarter until 2:42 remained. Gardner-Edgerton's Christen McCullough pulled through with a short bucket. After bobbling a few baskets back and forth, Eudora led by 12 points, 34-22, heading into the fourth quarter.
Eudora maintained a 10-point lead until about two minutes were left to play. The Trailblazers began inching closer with a couple of crucial buckets and were able to finally pull within four points, 38-34, after an off-balanced shot by Crysti Bettge.
Bryant responded with about 40 seconds left. Gardner-Edgerton's Megan Todd hit one moments later, keeping the margin at four.
Coach Freeland took advantage of a Trailblazer timeout to inform the girls they were letting down defensively at the worst time.
"I'll tell you what ladies, if you don't play defense, you're gonna lose the game," Freeland said.
The girls took her words to heart and kept Gardner-Edgerton from scoring in the remaining seconds.