The 49-year-old Johnson and his wife, Vicki, have three sons in the Eudora schools. Johnson has lived in Eudora seven years.
Education: MBA from Pittsburg State University and bachelor's of science in journalism from Kansas University.
Professional background: Douglas County Appraiser for 9-1/2 years.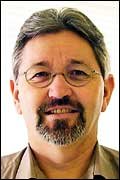 Political and civic experience: Current school board member; youth baseball, basketball and soccer coach; former Eudora Amateur Baseball Association (EABA) board member; member of the United Methodist Church.
As a member of the Eudora School Board, what approach would you take to the district's rapid growth?
I think the board should continue the course that we are now following. We need to continue looking at all the options, gather input from the community and then select the option that will hopefully handle the growth problem for a number of years. I personally favor the idea of building a new high school and converting the current high school into a middle school, if it is at all financially feasible to do. I think this option alleviates the growth problem for the largest number of years.