Cardinals come up big at home
Eudora boys defeat Anderson County for second win of season
In a third-quarter surge against Anderson County Friday night, the crowd watched as Eudora's Matt Fisher shared the perfect Christmas present.
"My shot must have been a present from Santa Claus," The EHS senior said with a smile. "The big third-quarter run pretty much put the win away."
In that phenomenal third quarter, Fisher had his own mini-run, which was exactly what the Cardinals needed to earn its 59-42 victory.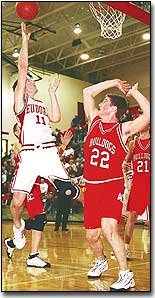 Barely over a minute into the first quarter, Fisher sank two free throws. A minute and a half later, he knocked in a three-pointer to give Eudora a 32-29 lead.
The Bulldogs' Joe Strobel answered back on the other end with a breakaway lay-up. A minute later, Fisher sank another three-pointer. The Cardinals got the ball back and delivered it to their rocket who gunned another to secure a 7-point lead with just under four minutes remaining in the quarter.
With about two minutes left, it was senior John Powers' turn.
He nailed another three and presented another with less than two seconds to go.
Fisher's 11 points during the third quarter and Powers' six were enough to secure a 44-33 lead heading into the last quarter.
The Bulldogs didn't have a shot once the Cardinals secured the lead. Fisher scored eight more points in the first four minutes of the fourth frame.
"Coach wanted us to keep them under 50 points," Fisher said. "We definitely did that."
Fisher finished the night with 23 points, his second time to accomplish the feat this season.
Earlier in the game, it looked as if the leading scorer would be Wes Hinman who scored six of the Cards' 10 points in the first quarter. Fisher had the other four.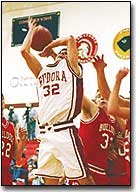 "It was a high emotion game," Hinman said. "We did what it took to win. We played really well defensively."
Coach Chad Eshbaugh said Hinman kept his team in the game offensively during the first half.
"He did a great job finding the shots," he said. "He just needs to be a little more assertive. I am not sure he realizes how good he can be."
Anderson County had the obvious height advantage, but Eudora didn't let that get to them. Six foot-five inch senior Aaron Hardman led the Bulldogs with 15 points
Freshman Kevin Weldin added 10.
Earning another win and with only nine turnovers was exactly what Eshbaugh wanted from the Cards (2-3), especially after keeping a team that averages 70 points a game to just 42.
"The highlight of the game for me was that final score," he said.
Eudora will travel to Spring Hill Friday night looking for its third win.
More like this story