No room to pass in
EHS

hallways
It's 12:33 p.m., just after lunch, as Eudora High junior Shonna Warrington closes her locker and begins her short journey to class. Wearing an ankle brace shaped like a ski boot on her left foot after a recent injury, she makes her way through the maze of students. One student bumps into her, then another. She rolls her eyes. Warrington clears the human traffic jam and makes it to her class only after finding a few feet of clear hallway space to guide her safely there. She's happy she isn't on crutches like she was two weeks ago.
"You pretty much get your crutches and go as fast as you can," Warrington said. "After lunch is definitely the worst."
In December, a preliminary report of a feasibility study was given to the Eudora School Board by architectural firm DLR Group of Overland Park. DLR representative Jim French suggested adding four classrooms to EHS to handle anticipated growth from 350 to 400 students over the next two years. DLR is expected to bring its final report of the study before the board Thursday at its 7:30 p.m. meeting at the district office.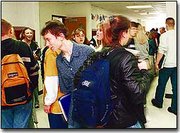 Math teacher Joe Hanna often sees the effect overcrowding has on students. Hanna's classroom is located near the end of an L-shaped hallway. He has worked at Eudora High since 1969 and taught EHS classes when grades 7-12 were in what is now Eudora Middle School. Hanna said the overcrowding is reminiscent of classes at EMS before the opening of a new high school in 1995.
"When we moved out here, it was pretty nice," Hanna said. "When we were at the middle school, it's pretty much the same deal as now."
Hanna sees students passing between the classes in his hallway and said it could get backed up at times.
"If anyone stops, you kind of have to push your way through," he said. "I'm sure it presses the kids to get from class to class."
Math teacher Bonnie Daigh said some students had a difficult time getting to the restroom and back to class during breaks. She has had similar problems.
"I've tried to get through the hallways and sometimes it's hard," Daigh said. "It's kind of one of those things, you don't walk down the hall between classes if you don't have to."
To compensate, EHS allows four passes per week for each student. Should students need to make a restroom break the passes compensate for those tight-fitting hallways.
Hanna said though students are somewhat crowded in the hallways, they take the situation in stride.
"The kids are pretty good about it," Hanna said. "They know it's crowded and they handle it pretty well."