Ruth Schneider is one business owner who has found you can have your cake and eat it too. But, she said, she prefers not to eat it.
Schneider was a former Hallmark employee, but quit after 17 years. She started making cakes, which turned into a full-time job. Schneider said she found turning her hobby into a full-time job fulfilling.
"You have to do your own paper work and do you own taxes, but it's a rewarding job," she said.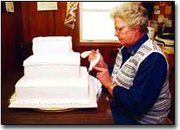 Working from her Eudora home, Schneider makes wedding, birthday and anniversary cakes.
She uses seven different design pans, makes tiered wedding cakes and even makes her own icing from scratch.
"I'm one of the very few with a business as large as mine that makes my own icing," Schneider said. "Most use commercial icing."
However, if you want something hi-tech on your cake, she suggests you may want to try somewhere else.
"I'm not a freelance artist. If you want anything drawn on them, don't call me," she laughed.
But, just because she can't draw, doesn't mean she can't make big cakes to feed plenty.
"The biggest cake I've done fed 750 people," she said. "That's a lot of cake too."

Schneider said she doesn't use advertising to get the word out. Instead, her reputation seems to speak for itself.
"That's my advertising; word of mouth."
Schneider said January and February were the slowest months for her. But when business picks up, she typically does two to three weddings a weekend.
Despite all the baking, she said the smell no longer makes her hungry. In fact, the reaction is just the opposite.
Although, there is one smell that gets her stomach growling chocolate.
"About the only thing that does make me hungry is if I do a chocolate cake," Schneider said. "Boy, the aroma off that will just eat you to death."
And what about leftovers or the damaged cakes?
"We very seldom eat cake at our house," she said. "Even if it's a flop we don't eat cake."
More like this story