A house of history
Pilla House a link to Eudora's past
Sitting at the top of a hill at 615 Elm St., one house holds a doorway to Eudora's past.
Charles Pilla, a German immigrant, built the house in 1894. He came to Eudora in 1865 at age 35. His brother, Fred Pilla, moved to Eudora in 1860. Fred Pilla started a general department store in 1862, located in the building that currently houses Red House recording studio. The brothers became partners in the business after Charles Pilla came to Eudora.
A prominent leader in Eudora, Charles Pilla served as mayor, postmaster, council member and school board member. He lived in Eudora 51 years, dying in 1916.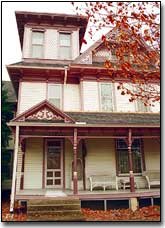 After his death, the Victorian-style Pilla house was willed to his daughter, Molvia, who lived there until 1863. She then lived in a nursing home and died in 1864.
The landmark home was owned by two different families after Molvia Pilla's death, first by Wayne Traynor and then by Ralph and Tommie (Rita) Snyder. The Snyder's restored the home to its original look and style and sold it to Norman and Sue Fulcher. Norman Fulcher died in 1999.
Sue Fulcher said her husband had known about the house and admired its beauty, yet the opportunity was never open for it to be purchased. But when that opportunity came in 1976, the Fulchers took advantage of it.
"It was kind of a novelty at the time," Fulcher said. "I thought, 'I don't know how I can take care of it.' But, it's not that bad."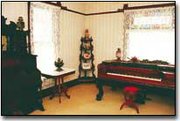 The house provided a good home to raise their family in, Fulcher said. Her children thought it was haunted and with a close look at the house's interior, it's easy to see why.
Though the home is built on Elm Street, the main door faces Main Street. Upon entering, a world is transformed to a near-perfect representation of early 20th century design. Hardwood floors are laced throughout the home. A small front sports sliding doors that open to a main room, of which all wood facing into the room is Oak. Though some doors are made of Maple, the outer edges and facings of the doors were covered with Oak paneling to maintain a sense of balance in the room.
Fulcher said these doors are the more interesting aspects of the house to her.
"I think the neatest part of this house, the thickness of the doors is just incredible," she said.
Connecting to the kitchen, a maid's room equipped with a dumb waiter could deliver items to the upstairs with just a pull of the rope. Fulcher said a maid working in the home might not have been too comfortable working in the back room originally there wasn't heat or electricity provided to it.
Traveling along the Oak main stair railing to the second floor leads to the upstairs with a bathroom containing a claw foot bathtub. The tub also has a mahogany wood trim.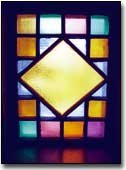 Aside from the bedrooms upstairs, the attic houses a water reservoir that utilized gravity to supply water to the rest of the house for its bathroom facilities. An outhouse still stands outdoors where pre-plumbing facilities were needed.
The house is filled with antiques, leftover from an antique business owned by the Fulchers.
Fulcher said maintaining the home hasn't been easy. She spends a lot of time maintaining much of the wood features.
"It's a money eater to tell you the truth," she said.
But, she said, it's worth it. The home is recognized on the National Register of Historic Places, but means more to her than just a structural treasure it's home.
"I love it and I have no intention of selling it or move until they haul me out," Fulcher said. "It's a pleasure to even take care of it."
More like this story