Eudora wrestlers find tough competition in Basehor
The Eudora High School wrestling team didn't come away from last week's tournament in Basehor with many medals, but team members did gain some valuable experience.
Senior Brian Harris was the only Cardinal to win his weight class, taking first place in the 135-pound division of the 2001 Bobcat Classic.
Senior Brett Becker also wrestled well, winning third place in the 140-pound division.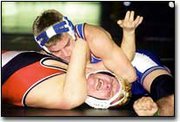 Finishing first in the tournament was Effingham-Atchison County with 171.5 points. Paola took second place with 157 points and Glenwood High School out of Iowa took third place with 138 points.
The Cardinals placed 13th in the 20-team field with 63 points.
Coach Ron Abel said his team performed about as well as he expected them to, considering the level of competition.
"We knew it would be a high quality tournament," Abel said. "And it was extremely tough. There were a lot of 5A and 6A teams there."
Regardless of the outcome, Abel said the competition should help prepare the team for the rest of the season.
"The competition this weekend may have actually been tougher than the state tournament will be," he said.
On the bright side, Abel said, the wrestlers did not lose any matches they were expected to win.
"If you look at the bracket and the way we were seeded, we didn't lose any matches we were supposed to win and we didn't win any matches we were supposed to lose," he said.
Next up for the Cardinals will be a dual match at home against Osawatomie and Spring Hill at 5 p.m., Thursday.