Cardinals win Tonganoxie Invitational
Eudora pulls out overtime win to beat Van Horn and take title
The Cardinals proved their coach's theory that they could be a dangerous team as they won the 42nd Annual Tonganoxie Invitational Basketball Tournament with a 58-55 win in overtime against Kansas City's Van Horn in Saturday night's championship game.
The Eudora boys' team also made history with the win.
"This is the first time ever that Eudora has won the Tonganoxie tournament," Coach Chad Eshbaugh said.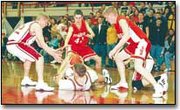 After the grueling battle between the Cardinals and Falcons, Eshbaugh celebrated with his team. Then he took a step back, sat down in his chair and buried his head in his hands, so elated with the way his team played.
"I asked them to win and they did that, so I'm happy," Eshbaugh said. "I never question these guys' effort. They're a hard-working group. They're very blue-collar, and I think people that come to watch us play appreciate that."
It wasn't an easy game for Eudora. After a debilitating first half, the Cardinals bounced back in the third quarter outscoring the Falcons 14-4 to earn a one-point lead. That lead is exactly what they needed after trailing by 14 points with about three minutes left in the half. By halftime, Eudora had narrowed the gap to nine.
"Basically what I told them at halftime was they were playing like they were intimidated by their (Van Horn's) athleticism," Eshbaugh said. "I told them they had no reason to be intimidated. I didn't care if they got their shots blocked a hundred times."
Eshbaugh said some of the first-half shots his team was taking were not bad, they just weren't falling.
In the third quarter, Eudora came out like a different team. Zac Tyler knocked in a shot less than a minute into the quarter for Eudora. Matt Fisher scored the Cardinals' next four points to pull the team within three.
"Things were getting kind of stressful during the first half," John Powers said. "We just had to step in and shut their offense down."
After shooting more than 50 percent from the field in the first half, the third quarter production was less than 20 percent for the Falcons.
During the third quarter, Eudora's Tim Lowe made his first appearance on the court as a Cardinal. He transferred from Wellsville and was ineligible until this week.
Lowe stepped in and hit a key 3-pointer to pull the Cardinals within two with about 1:30 left in the quarter. On the other end, he grabbed a rebound and brought the ball back to Eudora's end. There he passed to Lear Bowling with 51 seconds left. Bowling hit another 3-pointer with the assist, giving the Cardinals a 38-37 lead.
"I didn't really know what I was doing," Lowe said. "I was running on pure adrenaline. My goal was just to step in and help the team out."
Taking a 38-37 edge into the fourth quarter, Eudora was poised for a win. The two teams battled evenly for one and two-point leads during the fourth quarter stretch. With just under a minute to play in regulation, Van Horn had a two-point lead. Fisher wasn't going to let that be the end as he made a jump shot with 19.3 seconds left to tie the game at 48. The Falcons weren't able to pull back and the game went to overtime.
Fisher hit a 3-pointer in the first minute of the extra period, putting Eudora ahead 51-48. Wes Hinman was then fouled and sent to the line where he missed both free throws. With less than two minutes left, Fisher hit a jump shot increasing the margin to 5 points. Van Horn's Darnell Hale knocked one in 20 seconds later. With 5.2 seconds left, Hale hit another jumper. Tyler was fouled once he got the ball in-bounds. Eudora led by just one point, but Tyler hit both free throws to close out scoring, 58-55.
"This win was perfect timing," Powers said. "Now we should be able to get on a roll and get some more wins."
Fisher led offensively with 16 points. Bowling added 11 points.
Tyler and Fisher were named to the All-Tournament Team.
The Cardinals beat McClouth 82-25 Tuesday night in Eudora.