Beebe: Enthusiastic about recreation programs
Eudora Parks and Recreation Director Dianna Beebe's job is to look at potential programs and decide how they fit into the larger plan of Eudora.
"City recreation gives the opportunity for some good leisure activities, a social time, provides a little competition and is beneficial to the community," Beebe said.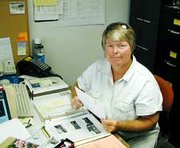 Beebe would like to create more programs, such as golf and tennis lessons for young people and adults, fitness and aerobic programs, and create a Web site and seasonal brochures showing all of the events for Eudora Parks and Recreation. She is also organizing activities for the upcoming CPA Picnic on July 20 and 21. Planned programs include kids games, a golf tournament and a four mile fun run.
Beebe said she has enjoyed working with the people of Eudora since she arrived Jan. 1, 2001.
"I've enjoyed meeting people and working with various groups in town," Beebe said.
She said the goal of the parks and recreation department is to provide sports, fitness and arts and crafts for all members of the community, ranging from young people to senior citizens.
Beebe has started making plans for beautification of the city's park areas.
"The director of parks and recreation must always try to envision the future," Beebe said. "As fast as Eudora is growing, there is possibility for the future of parks."
Beebe said she would like to have a neighborhood playground built for the city or possibly a Memorial Park where something would be donated in memory of a veteran. She also wants to add more signs to the parks, add walking paths and seating, and create softer surfaces near swings and slides on playgrounds.
Beebe has a variety of experience in the sports and recreation field as a 25-year employee of Kansas University. Beebe worked as the equipment manager for the "Olympic" sports (such as tennis and rowing) at KU. A western Kansas native, Beebe graduated from Emporia State University and taught physical education and health, coached and officiated for elementary, junior high school, high school and college. She coached Eudora's Frontier League rival, Spring Hill High School, in volleyball, basketball and track and field. She also taught physical education at Northwest Missouri State University.
Beebe plans on working with the city to try to make her plans a reality in the near future. She said a revitalization of the historical downtown area would prove to be beneficial to the city parks. An important part of the plan is to seek input from the community for Beebe.
"What does Eudora want in the next 10 years? What is of interest to the community?" Beebe said. "We might involve ourselves in a survey at some point to see what the community envisions for Eudora."