Eudora High School basketball coach Scott Stein got the first glimpse of his new team as he watched them play in a summer league and a basketball clinic earlier this month. Last week, the two sides were officially introduced as the coach hosted two, three-hour workout sessions for the team.
Assistant Coach Kevin Wade said the basketball camp helped Stein recognize with whom he had to work and gave the players a good idea of what to expect from their new head coach.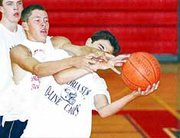 "It was a good jump start on the season," Wade said. " He introduced a few new things and the players gained an idea of what Coach Stein is about to bring to the table. It was a very productive camp."
On Wednesday, many of the seniors played in a summer league game, opening the door for 16 freshmen and sophomores to showcase their skills in front of Stein at the EHS camp. While next year's team will include several seniors, Stein said it was a positive experience to see good things from veteran players as well as from the newcomers.
"I was pleased with the intensity and participation," Stein said. "I just wanted to see where they were as a team and what was going on. I think we have some pretty good potential."
Senior center Wes Hinman said he learned several new things from Stein at the camp that he thought would help improve the team.
"It was a positive experience and he showed us a lot of new stuff," Hinman said. "We put in a new press and a little different offense. We also worked on offensive drills and fundamental stuff."
Senior shooting guard Lear Bowling believes the team is ready to live up to Stein's high expectations.
"He wants to go to Salina (for the 4A State Basketball Tournament) all the way, which is good because that's what the rest of us want to do," Bowling said.