Soccer camp to make swift kick to Eudora program
The original game of football will roll into Eudora when All About Soccer Camps holds a two day session, August 3 and 4 at the West Elementary Soccer Fields.
The camp, sponsored by the Eudora Soccer Club, will strive to enhance the skills of Eudora soccer players and serve as another step toward the goal of attaining a team at Eudora High School, Eudora Soccer Club President Yvette Ehret said. Ehret is also expecting soccer players from De Soto and Gardner to attend the camp.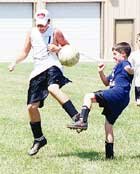 "We are hoping more kids can attend, the cost is more economical and it will benefit them greatly on their skills," Ehret said.
The coaching staff features former University of Washington and 12 year professional soccer player Eddie Henderson, other players with professional experience, high school coaches and directors of coaching.
The Mini-Strikers camp serves as the camp that will get young Eudorans ages 4-6 involved in the sport. Ehret said that it is beneficial for children to learn the game at an early age. The Mini-Strikers camp will take place from 5:30 7 p.m. Aug. 3 and 9 to 10:30 a.m. and 5 to 6:30 p.m. Aug. 4. All campers will receive a soccer ball and a T-shirt from the camp.
"The younger kids will learn how to control the ball while the older ones will learn a lot more about fundamentals," Ehret said.
The developmental camp for ages 7-18 will run from 5:30 to 8:30 p.m. Aug. 3. A camp for older players will run from 9 a.m. to noon and 5 to 8 p.m. Aug. 4. The developmental players will also receive a ball and a T-shirt. Campers should bring their camp ball, water, shin guards, sun block and bug spray to the camp.
Ehret hopes the camp will give the players a chance to improve their skills and make them ready for potential high school competition in the future.
'We are trying not to give up on getting a high school team," Ehret said. "When we do get the high school team, the kids will be ready to play other teams."
On Saturday, the Eudora Soccer Club held an intrasquad scrimmage during the CPA Picnic festivities. The Blue team defeated the White team 3-1 behind the offense of Garrett Wornkey's two goals, and Ty Van Ann's one. Jay Haupt scored the lone goal for the White team.
"It was hot but the scrimmage went really well and we had a good turnout," Ehret said.