Younger Eudora population affects lifestyles of both old and young
When Ron and Terri Long think about it, they can't name anyone in their peer group who isn't married and doesn't have children.
The Longs, both 33, fit between the median ages in Eudora and Kansas. The 2000 census shows that Eudora's median age, 31, is five years younger than the state average.
"Practically everybody has one kid, minimum," Ron Long said.
The people in their early 30s the Longs see at the ball fields, the swimming pool, the park "anywhere kids are," fit the married-with-kids profile.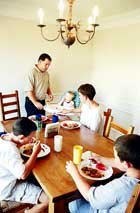 The relatively young population of Eudora contrasts to the aging trend in the United States often referred to as the "graying of America." Even though Eudora's only grown .1 year younger since the 1990 census, the Longs said they thought they saw many Eudorans their age.
"I don't want to be mean, but what do single people do in Eudora?" Terri Long asked.
After they married, the Longs moved to Eudora from Lawrence to split the driving difference between Terri's job in Lawrence and Ron's job in Kansas City.
Three children later, Ron works in Eudora, and Terri stays home with their children, Reece, 9, Tate, 6, and Christian, 1.
The lifestyle they look for now is different than people their age without spouses or kids, they said.
"We're lucky if we get to rent a movie and watch it," Ron said, chuckling about the average Friday night in the Long household. "We're usually in bed by 10 p.m."
At this point in their lives, they're looking for a community in a safe, kid-friendly environment.
Ron lives close enough to his job at the Intech Business Park that he can see the park from the living room window, can walk to work and eat lunch at home. He can't visit the hardware store without running into someone he knows, and Terri can't drive down Church Street without waving to many cars.
"We like having a neighborhood with kids," Ron said. "As always, you want the neighborhood to be safe; to be able to sit (the kids) outside and not have to worry about them."
Terri added, "For the most part, you can do that in Eudora."
Shirley Douglass, manager of the Pinecrest retirement apartments, works with Eudora's senior community.
Douglass said that looking at school growth and new housing developments, Eudora seems to have gotten younger, despite what the numbers say. And that impacts Eudorans Douglass said that looking at school growth and new housing developments, Eudora seems to have gotten younger, despite what the numbers say. And that affects Eudorans who aren't in the median age.
Unlike De Soto, Tonganoxie and Baldwin City, Eudora doesn't have a public senior center for its older residents. Moreover, many seniors want to stay put and don't want to deal with traffic in Lawrence or on K-10, Douglass said.
Pinecrest's club room houses events like potluck dinners and card games, and fills in as an ad hoc senior center, Douglass said.
"Our desire is not just for residents, but we encourage them to bring their friends," she said.
The clubhouse offers seniors meals, once served at Eudora City Hall. Douglass said the meals were moved to Pinecrest to draw a larger crowd to an already bustling event.
"We do well to fill the tables," she said, estimating that about 15 people ate the meals at Pinecrest, a drastic drop from the number served at city hall.
Douglass said she would like to see a traditional senior center in Eudora.
"I think we could do a lot more than we're doing," she said.
The senior community has other concerns as Eudora gets younger, too.
Although Douglass said having a younger population is good for Eudora, it could affect quality of life for seniors. For instance, she and Pinecrest residents objected to duplexes slated for development near Pinecrest III, the complex's newest phase. Some seniors were afraid younger people who might live in the duplexes would participate in dangerous activities on the residents' property. Douglass said that because most of the residents aren't too sure on their feet, they didn't want people riding bicycles or skateboards, for instance, on the sidewalks and in the apartment parking lot.
"We've kind of felt like we're a hidden community," Douglass said. "We're not going to go real well with kids wanting to shoot off firecrackers. Young people tend to rev up their cars and pull out too fast. Somehow or another we'd like to keep an element of safety."
Ron Long said an older neighbor planned to live across the street from their new Prairie Estates home. Terri Long recalled an older neighbor near their previous residence in Winchester Estates. She said she didn't mind having older neighbors, "as long as they don't mind the bicycles and the skateboards" that often accompany homes with children.
Like the seniors Douglass described, Ron also agreed that living in an area with other people of the same age made for a good community environment.
"It would be nice to have your neighbors have something in common with you," he said.
But with younger residents playing a large role, seniors can sometimes feel out of the loop. Douglass said the focus of the news has shifted away from senior citizens recently, and they're not getting the recognition they once received.
"We do appreciate the attention," she said.
Even if Eudora is a young town by comparison, Douglass said, seniors recognize a continued caring attitude that has stayed with the small town.
"We know that people watch out for us," she said.