Upon stepping through the doors of Operation Wildlife (OWL), the odor of wild animals greets visitors. Deeper in the building, director Diane Johnson and facilities manager Laurie Doud feed two young babies with bottles in hand.
However, these babies have fur they're raccoons.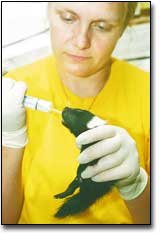 As they continue feeding their masked guests, Johnson said OWL cares for nearly 5,000 wild animals per year.
"I bet (Johnson) goes over that because we've had so many damaging storms," Doud said.
OWL's staff cares for injured, orphaned or displaced wildlife in nine counties and over 4,500 square miles.
"If it walks, crawls or flies across Kansas, it's been in our facility," Johnson said. "We're one of Kansas' best kept secrets."
Johnson started OWL in 1989 after working for a veterinary clinic in Bonner Springs. She witnessed an increase of injured and orphaned wildlife brought into the vet clinic, yet they could not be treated because of their wild nature. Johnson decided to take matters into her own hands and started OWL.
OWL is funded through donations. OWL manages to cover all expenses, Johnson said, but it's often like pulling teeth. The operation has 125 volunteers, including seven vets who volunteer their services. The facility operates on an $80,000-per-year budget.
"The volunteers a few years back gave me kneepads because I was begging (for funds) so much," Johnson said. "I'm not modest anymore."
When she's not busy asking for donations, Johnson spends her time feeding and nurturing animals, reptiles, birds or any other wildlife. The OWL facility houses a surgical room and indoor and outdoor cages. For wildlife such as owls, which prefer a more challenging dinner, Johnson raises rats for the daily special.
After being nurtured back to health, wildlife return to nature's habitat. There are two releases per year; one in the spring and another in the fall. Johnson said she's proud of her volunteers' work. OWL boasts an impressive 70-percent release rate, compared to the National Wildlife Rehabilitator's Association's 49-percent average.
Rural De Soto resident Teresa Dalton said OWL's services are greatly needed. Dalton said she often finds abandoned and injured animals near her residence, but before a friend's recommendation, she didn't know where to take them. When her daughter Amanda found an injured oriole last Thursday, the family knew to bring the bird to OWL for a needed hospital stay.
"In the springtime, I find tons of these birds," Dalton said. "I think it's neat we have a place to take them."
After the Daltons brought in the oriole, Doud went to work to provide for the injured bird.
"Everybody gets a hospital chart when they come in," Johnson said. "The whole nine yards."