Massey's flea market closing shop in July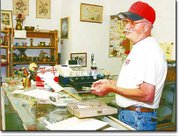 After three years of selling antiques in Eudora's downtown business district, Leland Massey is closing up shop.
The entrepreneur said his business, Massey's Main Street Flea Market, will close July 1 because of falling sales in recent months. He owns and operates the shop with his wife, Jane.
"Business is bad," he said. "We just haven't got any traffic downtown. There's no draw anymore. It started out pretty good, but I've been pulling out of my pocket the last two months for rent and utilities."
Massey said much of the decline occurred after the store moved from 714 Main Street to its new location at 709 Main Street. Only a few doors up from his previous location, Massey said the smaller building size lessened the amount of vendors he could accommodate. With fewer vendors to help pay part of the rent and less room to display merchandise, he quickly saw business decrease. Massey was forced to move the shop in September 2000 after his previous location changed ownership.
"This is really too small," he said. "I couldn't move in any furniture, and it just went downhill from there."
Massey began selling antiques out of his truck and his Eudora home in 1981. He is also an auctioneer. After years of finding odds and ends, he and his wife decided to start a business in a more permanent location.
Despite moving from the basement to downtown, Massey said overcoming downtown's distance from K-10 highway was his biggest obstacle.
"It would help if you could advertise on K-10," Massey said. "But you can't set a sign out there unless you own the property."
Mayor Ron Conner agreed and said a sign on the highway that advertised downtown businesses could help direct shoppers to what Eudora offers.
"(Maybe) we could somehow, rather than have a whole bunch of individual billboards, have an overall 'come visit downtown Eudora' sign," Conner said.
Eudora Chamber of Commerce President Keith Turnbaugh said he also agreed with the idea. Turnbaugh said the idea has been brought up in past chamber meetings, but no action has been taken.
"I drive back from Kansas City every single day, and the amount of cars coming into Lawrence is incredible," Turnbaugh said.
In addition to directing traffic downtown, the chamber is working to help upgrade building fronts, streets and other ornamental features downtown. One way the chamber, working with the city, will try to upgrade downtown is by applying for a Community Development Block Grant (CDBG) from the state. If granted a CDBG, the chamber plans to focus on a program that would improve downtown's look by upgrading building facades, streets and other business areas.
These improvements might help new downtown occupant Judy Smith with her shop, Ms. Judi's Gifts and Collectibles. Smith will move her shop from Ottawa to the vacancy left by Massey. Smith said she's excited to move her shop to Eudora but admits she struggled to find a building to suit her needs. Many owners of downtown buildings she was interested in couldn't be reached.
Despite the difficulty, Smith said she's happy to be moving into the building later this summer and is confident her regular customers will like her store.
"I have quite a few people who come here from Lawrence to shop," she said. "I'm sure they'll be happy. They wanted me to move to Lawrence."
Eric Gruber can be reached at egruber@eudoranews.com