Jerome leaves Nottingham after 34 years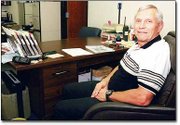 The children and staff at Nottingham Elementary School will have another new name to learn next August when school commences. After 34 years as principal, Tom Jerome's retirement begins in July, and a new principal will take his place.
When he leaves, Jerome will leave behind pleasant memories and look forward to a different kind of life that will allow him to pursue volunteer interests.
"It's hard to make up your mind that you're going to leave," Jerome said earlier this week while sitting in his office that is in the beginning stages of moving out.
"The last full year I've had a yearning to make the decision when I was going to retire," he said. "It just kept coming back at me."
Several weekends ago when his wife was out of town, Jerome said he took the weekend to be alone and come to grips with his decision.
"I feel young enough," he said. "I'm healthy enough. I never took a chance on doing anything else. I want to do a lot of things."
Jerome said he plans to stay active in education associations, continue work on the boards of the Bert Nash Community Mental Health Center and Eudora Nursing Center and maybe look for part-time employment elsewhere.
"I love to volunteer," he said.
Although he has no plans to move from Eudora, he said he might eventually travel.
"I've got family scattered all over the United States," he said.
His family influenced his decision to accept a job offer in Eudora.
"I had three kids at the time and fell in love with it," he said. "It became the town I wanted to live in and raise my kids in."
Nottingham's original building was built only one year before he arrived. Jerome recently enrolled the grandchild of one of his former Nottingham students.
Since joining the staff in 1967, Jerome said he has seen his fair share of changes. Some of the most notable changes, however, involve the outside world.
Even though Nottingham doesn't have many of the problems that plague other schools, Jerome said precaution plays a bigger part now than it did when he began, including locking most school doors and requiring visitors to sign in.
"There's more of an awareness of outside influence," he said. "It used to be that all the doors were open all day long."
Third grade teacher Ruth Hughs, who worked with Jerome since 1972, said that in a way they grew up together.
"Tom and I have shared lots of joys and sorrows together," Hughs said. "It will be so different for me. For 30 years he's been my principal. I'm just so excited for him, though."
Hughs said Jerome has a terrific rapport with his school children.
"He's had lots of practice," she said. "He has a large family of his own, too."
But Jerome said the hometown atmosphere of the school hasn't changed much.
"We're still a nice, small-town school with excellent kids and excellent parents," he said.