Eudora Middle School students pushing their own weight
The future strength of Eudora High School sports teams is being developed on weekday mornings this summer.
Coaches Don Grosdidier and Gary Hinman are running a six week conditioning and early stage weightlifting program for 68 Eudora Middle School students. The students attend the training programs for 40 minutes per day, Monday-Thursday. Hinman started the program six years ago so Eudora athletes would have a program similar to other Frontier League schools with middle school summer training programs.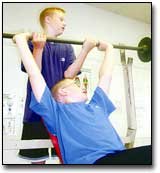 "Weightlifting and summer training are a part of sports," Hinman said. "Kids have to be more committed than just during the season. All the sports at Eudora have benefited from the program."
Grosdidier, who is in his first year with the middle school program, said it aims to get the young athletes started with conditioning and weights through learning the correct procedures and techniques that go along with weight lifting. It also develops flexibility, agility and conditioning work. The athletes work on form running, stair work and squat jumps as part of the conditioning program. They split their 40 minute session between the conditioning and weight room. The lifts include squats, bench press, power clean, military press and other various Olympic style lifts.
"The program is open to any seventh and eighth grade student," Grosdidier said. "We stress technique as much as anything and we are constantly stressing that they should not compare themselves with others yet improve on their own."
Physical Therapist Mike Chapman of Therapy Works in Lawrence said that weightlifting at a young age can be extremely helpful if it is supervised by coaches such as High School Football Coach Aaron Barnett, Hinman and Grosdidier.
"Weightlifting is a protectant resistance against injury that makes an athlete perform better," Chapman said. "Lighter weights of repetition is better and kids should not try to lift their maximum weight at a young age."
Chapman also stressed that athletes should not begin heavy weightlifting while they are going through a growth spurt and that coaches should use their judgment with each individual athlete.
"We do a lot of reps with the lighter weight ," Hinman said. "We show them how to lift properly so when they get to high school they will already know how to lift."
Seventh grader Austin Calhoon said he likes the program because it gives him something fun to do over the summer while learning about new things.
"It's fun because you get to do it with all of your friends and get a good workout for sports," Calhoon said.
Grosdidier said the program improves the young athletes in a variety of ways.
"It helps them physically in terms of quickness and strength," Grosdidier said. "It also gives them more confidence and develops a work ethic in them."