Going to the chapel
Local retailers busy with matrimonial month
Around this time of year many people may find themselves discovering invitation after invitation in the mailbox, spending lots of time looking at gift registries and pulling out those mothball-smelling dress clothes they pray still fit.
Traditionally people recognize June as the month for weddings, but Sharon Reynolds, owner of Broers Flower Shop, said she works on many wedding floral arrangements from May until August.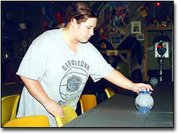 "It varies so much," Reynolds said. "Some people book months in advance, and some people come in two weeks before. We do everything from $1,000 for flowers to people on their way to the courthouse."
Reynolds put together flowers Friday for Vanessa Griswold and her fiance, Shawn McMillan.
"Hers is more garden-y," Reynolds said of the wedding, which took place at the Train Park in Lawrence. She said "country cottage, humble" flowers, like delphiniums, are in style.
"It seems like the brides are going for it as opposed to the real formal orchids and gardenias," she said."
Planning a June wedding can be a little more difficult, Griswold said. The couple booked their reception site as early as November.
Although some may opt for June weddings out of convenience nice weather, after graduation, during vacation season the couple picked a June date for sentimental reasons.
"My fiance's grandfather died this time last year," she said. "We picked Father's Day in particular to keep him close to our hearts."
Those who chose a church wedding may run into the obstacle of a church that has two weddings in one day.
Waylon Ingle, Eudora Southern Baptist Church pastor, said he had pulled double-duty before.
"I've had two weddings in one day," Ingle said. "It was hectic and crazy, and I wouldn't want to do it again."
Friday morning, cake decorator Ruth Schneider baked and frosted three wedding cakes for weekend weddings.
"I'm trying to get these boogers done today," she said. "I start one and finish that baby. If I didn't, I'd be so lost in the shuffle."
Her record is decorating 13 cakes in one weekend.
"Your busiest weekend is Labor Day, Memorial Day and the Fourth of July if it's on a weekend," she said. Three-day weekends appeal to brides and grooms, she said.
Kim and Greg Neis discourage couples from booking Kim's Barn for receptions in July, because the facility isn't air-conditioned.
"But we've had people say that they don't care," Greg Neis said. "Last year we had one where it was 100 degrees. They partied until midnight. Nobody left."
But the formal attire got a bit warm, he said.
"Some of the women were wearing their bridesmaids dresses," he said. "They took scissors and whacked them off. They looked like something from Dogpatch."
More like this story