Veteran people watchers keep close eye on city's changing face
Jack Howard may be as much a part of downtown Eudora's landscape as the buildings he's been sitting in front of every morning for the past few years. At 82, Howard said spending time with friends on the bench outside Eudora Relics, 710 Main Street, is one of the few relaxing activities he is still able to enjoy.
"This may not be great fun for young people, but it gives us old people something to do," Howard said. "I imagine we'll keep on doing this until we just can't anymore."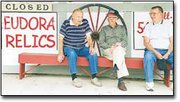 Five or six "regulars" generally join Howard in his daily diversion, Eudora Relics manager Jim Harris, said. According to Harris, bad weather is the only force that prevents the men from hanging around.
"Unless it's really cold or really wet, you can pretty much bet that those gentlemen will be out here visiting," he said. "The funny thing is that people come by and see a bunch of older men sitting in front of a sign that says 'Eudora Relics.' I'm sure it gets some chuckles."
The men haven't always used Eudora Relics as their gathering place. They sat in front of the unoccupied building on Main Street before Dave Taylor, maintenance worker, built benches under Eudora Relics' eaves.
"I thought they could use a place to put themselves out of the rain or sun," Taylor said. "Sure enough, they came to this side of the street to have their chats."
The Eudora Post Office draws the crowd of conversationalists downtown, Francis McConkey, who sits with Howard, said. The ritual begins with each group member getting his mail, followed by the trek across the street to rest, observe the surroundings and participate in or listen to casual discussions.
"Sometimes we complain to ourselves and each other about how the city's run," McConkey said. "Of course, we know we can't do any better."
Dorlos Gammill, who at 73 is one of the group's youngsters, said he hadn't noticed much change since he started sitting in the lineup.
"Occasionally I see a new face asking me for directions or stopping to chat, but the buildings seem about the same," he said. "I suppose downtown's been spruced up a bit and a few of the structures are getting facelifts, but there's still not a lot to bring outside people and businesses into town."
While Gammill's opinion expresses that there may not be much bringing people into town, there isn't much driving them out, either. McConkey, 81, said that after moving to Eudora in the late 1940s to work at Sunflower Ammunition Plant, he's never felt the need to leave.