Eudora resident Tom Taylor worked as a Ford mechanic in Lawrence until he realized the sky was the limit literally.
Taylor, 29, left his steady job at Laird Noller Ford in 1997 and began chasing his dream of becoming a pilot for a major airline one year later. He graduated from the Kansas State University-Salina Aviation Science program in May and is employed as a co-pilot on an Air Transport Regional, ATR, for the St. Louis based TransWorld Express Airlines.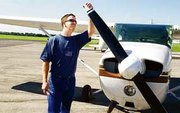 Transworld Express travels to 12 different destinations, including Springfield, Mo., and Madison, Wis. Travelers often use TWE as a means of getting from a smaller airport to a larger one where they catch a TWA flight.
"Flying is a lot better than working on a car," Taylor said. "It is a neat deal and it is pretty cool to get paid for flying. It seems like you learn every time you fly."
Taylor received his commercial license two years ago after flying for completing 250 hours of flight training, his instrument rating and his flight instructor rating at K-State-Salina. During his final year at the school, Taylor instructed other pilots and also met several well-known KSU figures. He chose to attend K-State-Salina because of its strong reputation and the fact that it has the state's only aviation program.
"The aviation program ties in with the football and basketball programs," Taylor said. "We flew KSU President Jon Wefald, Bill Snyder and Tom Asbury around."
Taylor said he feels fortunate to be able to serve as the co-pilot on a plane like the ATR.
"The ATR is a really nice flying plane with top-of-the-line instrumentation," Taylor said. "It is a pretty sophisticated airplane which makes it easier to fly."
As a student, Taylor did a three-month internship with Southwest Airlines and learned a lot about commercial flying. Someday, he hopes to be a pilot for the Texas based airline.
"Southwest Airlines has been in business for 30 years and never laid anyone off," Taylor said. "No other airline can say that."
Flying for an airline has its privileges for Taylor. When he wants to take a vacation, he can fly anywhere for free while his wife of two years, Kim, only has to pay $50 for a ticket.
A 1990 graduate of Eudora High School, Taylor flies small airplanes when he is not piloting the ATR for Transworld Express. He enjoys going to the New Century Airport in Gardner where he rents a plane and flies around for an hour at a time. Taylor uses some of his down time to go fishing at Clinton Lake near Lawrence, but he speeds up for his expensive and fast-paced hobby of drag racing at Topeka's Heartland Park. Taylor, who races in the pro class series, along with long time friend and fellow Eudoran Kevin Miller, said he hopes to race his 1979 Nova a little more now that he is out of college.
"The speed thing is a lot of fun with the adrenaline rush like a roller coaster or flying," Taylor said. "Racing is a lot of fun but I haven't done it enough lately."