Mayor Conner announces plans for city's developing future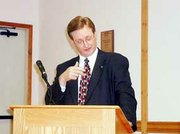 Mayor Ron Conner's State of the City speech last Thursday sounded something like a recipe.
Take the fastest-growing town by percentage in Douglas County. Add seven police officers, three fire trucks, a full-time recreation director and building inspector, a water system with a pumping capacity of three million gallons and an electrical plant potentially needing upgrades, and you have a fully-functioning town that needs to think about growth to stay that way.
But the number that seemed to impress Conner the most was $51,000, the approximate amount of money Eudorans raised for cancer research at the Relay for Life earlier this month.
"Eudora's strength has always been its people," he said.
Conner, who graduated from Eudora High School in 1973, said he never imagined he would be speaking to the chamber as the mayor of Eudora, mainly because of his former fear of public speaking.
"I was here when you went in the north end of Main Street as a fifth grader and left the south end as a high school graduate," he said, speaking of the changes he has seen in Eudora.
After Conner gave an inventory of the city, he told the Eudora Chamber of Commerce his vision for the town's growth. As a disclaimer Conner said the ideas were in no particular order, only his opinions, and not the top 10 list of which he spoke on election night.
Among other things, Conner highlighted:
Planning: to create a capital improvement plan; a 2010 strategic plan; and an economic development plan, in which the chamber should be involved.
Utilities: "I think we need to be mindful of upgrades," he said.
Streets: make paving Winchester Road a priority, take bids again when they might be lower; improve Church Street from 12th or 14th Street to the mile marker south of the high school, possibly making it four-lane. "That's the front door to Eudora now," he said.
Parks: build a new swimming pool; identify a major park area, "Not a Shawnee Mission-sized park, but I think we need to think outside the box," he said; install walking trails in the city.
Community: create a multi-purpose building for Eudora, possibly in the middle school if a bond for a new high school passes; better cooperation between the city and the school district to share facilities like library and media centers and athletic facilities; begin a recycling program.
Finally, Conner spoke more about how Eudora could use community development grants from the state.
He said he'd like to see the city develop youth-centered recreation and entertainment.
"I don't know if that includes movies and restaurants or not, but it sure would be nice," he said.
As others involved in the project have mentioned, Conner reiterated the need for downtown businesses to advertise along K-10. A new business park might be necessary soon, too, he said.
Conner also mentioned an idea from a co-worker who thought that Eudora needed a pricey golf course and housing development to grow.
Yet Conner also went back to the focus of the project for many boosting downtown business.
"While the city can't be in the business of starting businesses, we can make it easier for them to be here," he said. "I see it as a way we can build on our historical past."