Eudora wrestlers finish strong
Harris, Becker, Marmon win medals at 4-A state wrestling tournament
Five Eudora grapplers earned trips to the 4A State Tournament in Wichita over the weekend and three of them brought home medals.
Seniors Brian Harris and Brett Becker finished third and fourth, respectively, and first-time state qualifier junior Jason Marmon took fifth.
On the strength of those performances, the Cardinals racked up 50-1/2 team points to place 11th in the 56-team field.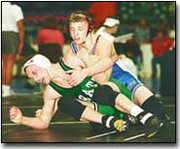 "I was pretty pleased with how we did as a team," Eudora High School Coach Ron Abel said. "That was the biggest surprise, and we beat Spring Hill, which made it even better."
Spring Hill was one of only two teams that beat Eudora in dual action. The Broncos finished 14th at state. The Cards' other loss during the season came against Paola, the 5A state champions.
Colby won the 4A-state title with 131 points, followed by Scott City with 109 and Abilene with 99.
Perhaps the most exciting match at the tournament, unfortunately, did not take place in the finals.
Because the state tournament is not seeded, Colby's Matt Murphy, ranked number one, and Eudora's Harris, ranked number two, met in the 135-pound semifinals.
The back-and-fourth battle saw Harris ahead 7-5 going into the final period. Harris escaped twice in the last two minutes, but Murray was able to score two takedowns to tie it at 9-9, forcing overtime. In OT, Murray again got a takedown, which ended the match 11-9.
"Other coaches and officials came up to me and said it was the best match at the tournament, and you had to feel good about that," Abel said. "Brian has beaten 12 state placers and more than 20 qualifiers and only five of his matches this season weren't major decisions or more."
Murray went on to post a 13-1 decision over Piper to claim his second state title, and he pinned his first two opponents.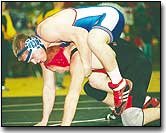 "It would have been nice to beat him," Harris said. "It was a tough match and we were both undefeated. That was the only one I had trouble with."
Harris scored 57 points in his five state matches that started with a 20-7 major decision over Frank Chase of Scott City, who eventually took fifth. He then bested Chanute 11-5 to set up the match with Murray. In the consolation bracket, he again faced Chase and this time pinned him in 2:01. For third place, Harris beat Ryan Blasi of Pratt 15-6.
The medal was Harris' third at state. He took sixth as a freshman and fourth last year. As a senior, he went 37-1 and won seven tournaments. Harris ends his wrestling career at EHS with a 118-27 record.
For Becker, the road to the fourth-place medal at 145 pounds began with a second-period pin of Ulysses. He then lost a controversial 10-8 overtime decision to Joe Barringer of Chanute, who finished sixth.
In the consolation bracket, Becker fought back with a pin of Garnett in 4:03 and a 21-6 technical fall over Clay Center, setting up a big match with a familiar foe in the semifinals.
In the semis, Becker avenged his regional loss to Brandon Vanderbur of Osawatomie with a 7-4 decision. More importantly, the win guaranteed a better finish for him than his fifth-place medal of a year ago.
Scott City's Levi Heinrich pinned Becker in the consolation final after a seesaw battle.
"He was going to pin me or I was going to pin him. There was a reversal and back points for each person. We were getting after it and throwing each other around," Becker said.
Becker closed the season at 32-6 and added two pins at state to his school record 74 career victories by fall. He posted 106 wins in his four years of wrestling for EHS.
Jason Marmon, in his first state tournament, medaled at fifth place in the 215-pound bracket.
"It wasn't expected, but it was a pleasing event," Coach Abel said. "It's the first time he's been healthy in a while and he decided to do well and he did."
After getting pinned by the eventual state runner-up from Atchison, Marmon won three straight.
He pinned Larned 2:44 and then edged Concordia 1-0. In the consolation semifinals, Marmon faced Clint Bowman of Spring Hill and redeemed a 6-4 overtime regional loss. At state he downed Bowman 3-0, ensuring a medal.
A loss to Garnett sent Marmon to the fifth-place match where he pinned Colby in 1:16. Marmon closed out the season 22-11.
The only sophomore to qualify for state, Shane Grant, got a taste of the state's best when he was pinned by the eventual heavyweight champ in the opening round Friday. He was eliminated in the second round by a loss to Atchison.
"He's got all kinds of talent," Abel said of Grant. "It was a good experience and lets him understand what he needs to do to get to that level."
Grant ended the season at 18-13.
Eudora's other state qualifier 119-pounder, Dustin Crowe, won one match at state. The senior was edged 9-7 by the eventual fifth placer from Scott City then came back with a quick pin (57 seconds) of Piper in the second round. In his final match, Crowe trailed by two with just 10 seconds left and tried a throw and fell on his back to lose 8-3.
A trip to state means a wrestler is one of the top 16 in his weight class, finishing fourth or above at regionals.
"I think we all wish we could have done a little better," Crowe, who qualified for state four times and ended his senior campaign at 25-8, said.
Crowe said he'd done nothing but eat since state, not having to watch his weight anymore.
"I went form 119 to 138 over the weekend," he laughed. Becker and Harris agreed and said they each gained around four pounds from Friday night to Saturday morning.